Modular Milling voor service, te huur of te koop.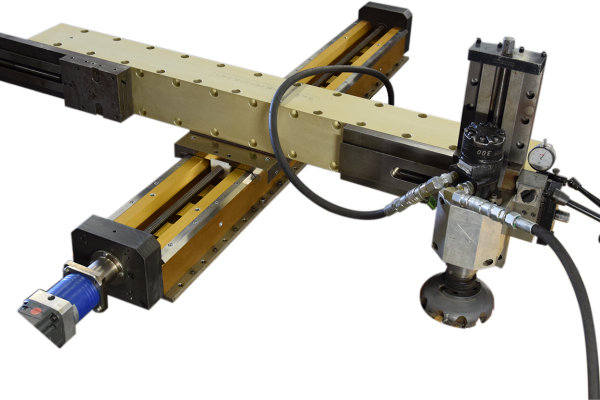 De LMC Modular Milling machine is ontworpen uit oogpunt van freesbewerkingen die ter plaatse moeten worden uitgevoerd.
Vele reparatie- en of onderhoudswerken gaan gepaard met de nood aan freesbewerkingen die ter plaatse dienen te worden uitgevoerd. Vaak situeren deze bewerkingen zich op een moeilijk bereikbare plaats in de installatie doch er is wel een heel precieze afwerking of maatvoering nodig.
Om te kunnen beantwoorden aan de grote diversiteit van variabele opstellingen, maatvoering van de te frezen oppervlakten, plaats waar dient gefreesd te worden, moeilijkheden van opstellen enz enz is er nood aan een modulaire machine die in functie van het uit te voeren freeswerk kan aangepast worden.
Dat alles kan met de LMC modulair uitbreidbare LMC Modular Milling Machine.
Deze set heeft de volgende configuratie:
X axxis : 1500 mm
Y axxis 750 mm L( manuele voeding )
Z axxis 250 mm ( manuele voeding ) met digitale diepteinstelling afleesbaar
Gereedschapsopname : ISO 40
2 st frees 1 st 50 mm 1 st 125 mm diam ( vlakfrees )
40 st snijplaten
ISO 40 frees houder 1 st
Frees motor : Permanente magneet 3 kw met regelaar voor RPM met behoud van koppel
Toerental van de frees regelbaar met afstandbedienings peer ( lengte kabel +/- 5 mtr )
Elektro aandrijving : 400 V 32 amp stekker 5 P
X axxis motor : met mogelijkheid Eind / return settings variabel Perm magneet +/-750 W
CE conformiteitsattest
Handleiding : Engels en of Nederlands
X / Y / Z axxis alsook freesmotor worden geleverd in op maat gemaakte ( separate ) aluminium kisten ( traanplaat ) met deksel en afsluitmogelijkheid voor opslag en transport
X axxis motor heeft aparate opberg in Alu kist van X axxis balk
Hijshulp toebehoren voor manipuleren van de stukken inbegrepen ( hijskabel voor X axxis balk)
Set handgereedschappen
Configuraties op maat aanpasbaar zoals de Y axxis en of de Z axxis leverbaar met motorvoeding.
This email address is being protected from spambots. You need JavaScript enabled to view it.