Shaft alignment tool TKSA 51
Comprehensive and intuitive shaft alignment utilising tablets and smart phones
The TKSA 51 shaft alignment tool provides high measurement flexibility and performance suitable for entry-level to expert alignment jobs. Designed to work with the shaft alignment for TKSA 51 app on a tablet or smart phone, this intuitive tool is easy to use and requires no special training. The included accessories enable use of the TKSA 51 for a wide range of alignment applications, such as motors, drives, fans, pumps, gearboxes and more. The tool's mobile app includes tutorial videos to show operators how to perform accurate measurements.
Measurement flexibility - The well-known, three-position measurement gains additional flexibility as measurements can start at any angle and require a total minimal rotation of only 40 degrees. This enables operators to perform alignments on applications with limited space.
Automatic reports - Alignment reports are generated automatically and can be customised with notes, a machine picture and a signature via touchscreen. These reports can be exported as PDF files and shared with other mobile apps.
Comprehensive and compact - A range of included components, such as magnetic mounting brackets and extension rods and chains, increase the TKSA 51's versatility, yet it remains compact, lightweight and easy to carry.
3-D live view - This feature enables intuitive positioning of heads for quick alignment measurements and displays live when horizontal/vertical alignment correction is achieved. The app enables 3-D rotation of the virtual motor to correspond with the actual machine position.
Disturbance compensation - Measurement values are averaged over time to provide accuracy in presence of vibration or other external disturbances.
Fully functional demo mode - The app can be downloaded easily, and its demonstration mode allows the shaft alignment process to be experienced before purchasing the TKSA 51.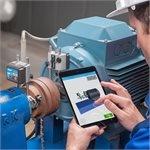 Of the TKSA family of products, the TKSA 51 shaft alignment tool is suitable for the broadest range of applications. Its compact, lightweight design, high measurement flexibility and included accessories enable use of the instrument on virtually any machine, even in difficult-to-reach locations. Protective cases can be used on tablets and smart phones and do not affect the functionality of the TKSA 51.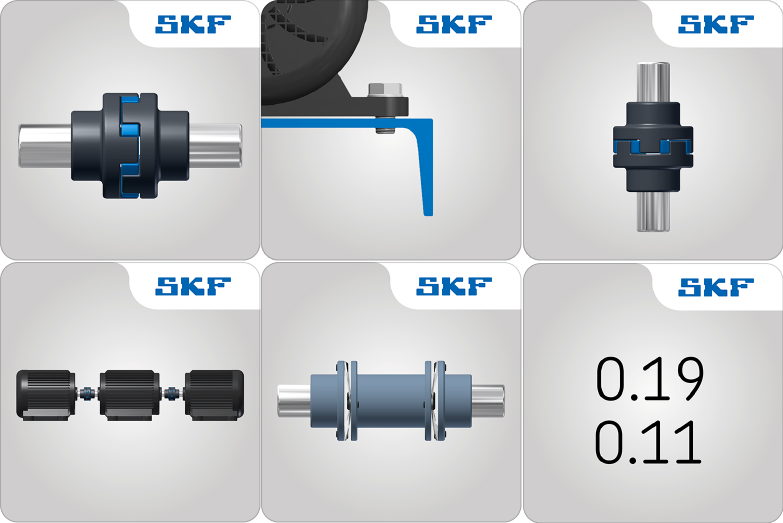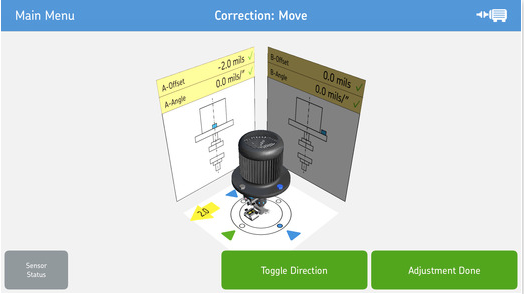 The TKSA 51 App is available for free in the Apple App Store or on Google Play Store. Just search for "SKF shaft alignment" with your device and try the alignment process with the fully functional demonstration mode. The SKF vertical shaft alignment and the SKF soft foot function are available via an additional app. Se below in the TKSA Alignment applications Apps tab for more information.

Technical data
Sensors and communication
20 mm (0.8 in.) PSD with red line laser Class 2; electronic inclinometer ±0,1°; Bluetooth 4.0 LE
System Measuring distance
0.07 to 5 m (0.23 to 16.4 ft)
Measuring errors / displayed resolution
<1% + 1 digit
Compatible operating devices *
iPad Mini recommended, iPad 3rd generation or above, iPod Touch 5th generation or above iPhone 4S or above
Operating system requirements
Apple iOS 8 or above
Software / App update
via Apple App Store
Shaft diameters
20 to 150 mm (0.8 to 5.9 in.), up to 450 mm (17.7 in.) with extension chains supplied
Max. recommended coupling height
170 mm (6.7 in.) with extension rods
Alignment measurement
3 × positions free measurement (min. 40° total angle), automatic measurement
Alignment correction
Live values for vertical and horizontal machine position correction Adjustable shocks compatible (Vibracons)
Soft foot correction
Available with separate "Soft Foot for TKSA 51" app on Apple App Store
Alignment report
Automatic pdf report exportable via email/cloud services
Display orientation
Landscape (plus portrait on tablets)
Measuring unit battery
Up to 10 hours continuous operation (2 000 mAh rechargeable Li-ion battery)
Carrying case dimensions
355 × 250 × 110 mm (14 × 9.8 × 4.3 in.)
Total weight (incl. case)
2,9 kg (6.4 lbs)
Operating temperature
0 to 45 °C (32 to 113 °F)
Calibration certificate
Supplied with 2 years validity
Warranty
2 years standard warranty + 1 additional year upon registration