Static vibration sensor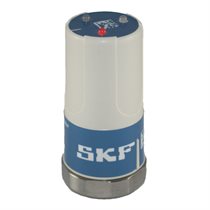 SKF Machine Condition Indicator CMSS 200
The SKF Machine Condition Indicator is an economical vibration sensor and indicator for monitoring non-critical machines. It is ideal for machinery with constant operating conditions not previously monitored in plants (fig 1). The device can be compared to the "check engine" light in a car. What the "check engine" light does for the car, the SKF Machine Condition Indicator does for industrial machinery. Internal sensors measure velocity, enveloped acceleration (bearing or gear impulsive vibration) and machine surface temperature.
The included magnetic read-key (fig 2) is used to activate the SKF Machine Condition Indicator, change operating modes, set vibration baselines and acknowledge alarms.
The unit features three LEDs to indicate the machine and bearing condition. Once the unit is illuminated, it alerts the predictive maintenance technician to do a root cause analysis on the machine. In addition, it features a barcode with serial number for machine identification purposes and easy incorporation into an Operator Driven Reliability (ODR) program, maintenance routes or scheduled check-ups.
Click here to see how to use the SKF Machine Condition Indicator's magnetic read-key.

Fig.1

Fig.2
Download the SKF Machine Condition Indicator App
Go to the Apple App Store and download the SKF MCI app! Explore the Machine Condition Indicator, and use animations to check alarm conditions.
With the augmented reality feature, view the MCI in 3D on your table top! Simply click on the document below to download the SKF MCI augmented reality trigger image. Print this out, out place the image on a flat surface, open your MCI app, and point your mobile device at the trigger image, then watch the MCI appear!
Move your device around the virtual product as if it were real, or lock the screen and rotate the MCI to view it from any angle.
Overview of the SKF Machine Condition Indicator
SKF Machine Condition Indicator ordering information
SKF Machine Condition Indicator ordering information