TorcUp EP SERIES Hydraulische Torque sleutel Pomp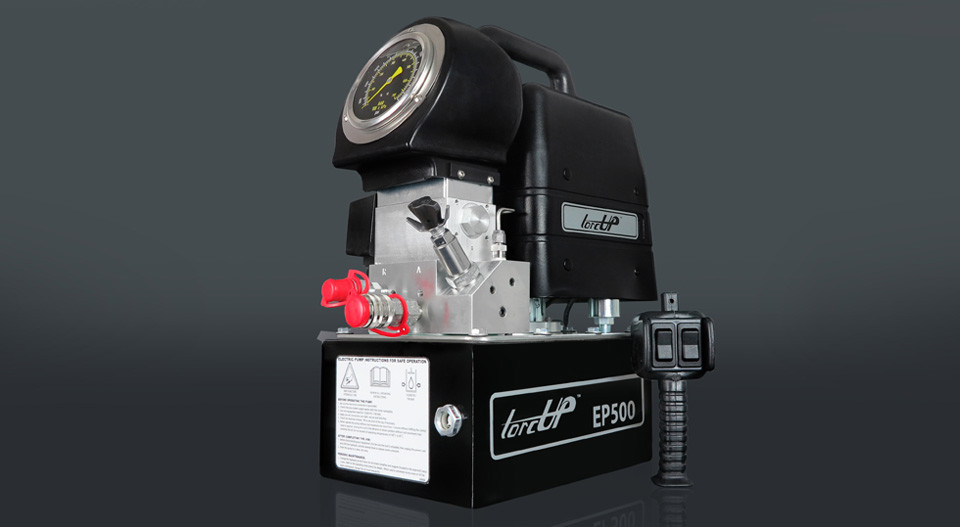 De meest zwaar uitgevoerde hydraulische momentsleutelpomp in de industrie
De hydraulische momentsleutelpompen uit de EP-serie zijn ontworpen met het oog op on-site continu-cyclische betrouwbaarheid. Volledig instelbereik tot 10.000 psi / 700 bar.
CONTINU CYCLISCHE BETROUWBAARHEID
Made in the USA
Verkrijgbaar in twee types EP-500 en EP-1000
Verkrijgbaar in 115V en 230V
Inclusief 3 Meter (15′) Hydraulische twin slang
Een TorcUP-ontwerp
De hydraulische momentsleutelpomp uit de EP-serie is gemaakt om onder zware omstandigheden en zware toepassingen werken en te weerstaan. Stel de druk af op de gewenste PSI / Bar om elke keer het juiste koppel te verkrijgen. Of u nu één of vier gereedschappen gebruikt, de pompen uit de EP-serie zijn de kracht die ervoor zorgt dat de klus geklaard wordt.
Specificaties

EP500

Model #
Reservoir Capacity
Valve Model
Valve Style / Function
Pendant
Motor Spec
Flow Rate
Weight
EP500
1 Gal. /
3.8 litre
Torque
Auto Retract / Advance/Retract
Motor / Solenoid Control
1.125 HP @230VAC Single Phase
525 cu.in./min.
@ 1,100 psi
46 cu.in./min.
@10,000 psi
59.4 lbs. /
26.9 kg
EP500-230V
1 Gal. /
3.8 litre
Torque
Auto Retract / Advance/Retract
Motor / Solenoid Control
1.125 HP @115VAC Single Phase
8.61 litres / min.
@ 75 bar
0.78 litres / min.
@ 700bar
59.4 lbs. /
26.9 Kg

---

EP1000

Model #
Reservoir Capacity
Valve Model
Valve Style / Function
Pendant
Motor Spec
Flow Rate
Weight
EP1000
1.5 Gal. /
5.7 litre
Torque
Auto Retract / Advance/Retract
Motor / Solenoid Control
1.5 HP @115VAC Single Phase
700 cu. in./min.
@ 0 psi
575 cu.in./min.
@ 1,100 psi 55 cu.in./min.
@10,000 psi
74.2 lbs. /
33.7 kg
EP1000-230V
1.5 Gal. /
5.7 litre
Torque
Auto Retract / Advance/Retract
Motor / Solenoid Control
1.5 HP @230VAC Single Phase
700 cu. in./min.
@ 0 psi
575 cu.in./min.
@ 1,100 psi 55 cu.in./min.
@10,000 psi
74.2 lbs. /
33.7 kg
EP1000-Q
2.5 Gal. /
9.5 litre
Torque
Auto Retract / Advance/Retract
Motor / Solenoid Control
1.5 HP @115VAC Single Phase
700 cu. in./min.
@ 0 psi
575 cu.in./min.
@ 1,100 psi 55 cu.in./min.
@10,000 psi
81.2 lbs. /
36.8 kg
EP1000-Q-230V
2.5 Gal. /
9.5 litre
Torque
Auto Retract / Advance/Retract
Motor / Solenoid Control
1.5 HP @230VAC Single Phase
700 cu. in./min.
@ 0 psi
575 cu.in./min.
@ 1,100 psi 55 cu.in./min.
@10,000 psi
81.2 lbs. /
36.8 kg

Afmetingen

EP500

Usable Reservoir Capacity
A
B
C
D
1 Gal. /
3.8 litre
13.1 in. /
333 mm
8.19 in. /
208 mm
19 in. /
483 mm
5.73 in. /
146 mm

---

EP1000

Usable Reservoir Capacity
A
B
C
D
1.5 Gal. / 5.7 litre
15.13 in. /
384 mm
8.75 in. /
222 mm
19 in. /
483 mm
5.94 in. /
151 mm
2.5 Gal. / 9.5 litre
17 in. /
432 mm
9.75 in. /
248 mm
19 in. /
483 mm
5.94 in. /
151mm

Kenmerken

| | |
| --- | --- |
| Sensors and communication | 29 mm (1.1 in.) CCD with line laser; electronic inclinometer ±0,5°; Bluetooth 4.0 LE or USB cables (included) |
| System Measuring distance | 0,07 to 4 m (0.23 to 13.1 ft.) |
| Measuring errors / displayed resolution | <0,5% ±5 µm / 10 um (0.4 mils) |
| | 5.6" colour resistive touchscreen LCD |
| | via USB stick |
| | 20 to 150 mm (0.8 to 5.9 in.) diameter Up to 300 mm (11.8 in.) with optional extension chains |
| Max. recommended coupling height | 195 mm (7.7 in.) with included extension rods |
| | 2 × V-brackets; 2 × chains 400 mm (15.8 in.); 2 × threaded rods 150 mm (5.9 in.) per V-bracket; 4 × extension rods 90 mm (3.5 in.) |
| | 3 position measurement 9–12–3 3 position automatic measurement 9–12–3 3 position free measurement (with min. 90° rotation) |
| | Live values for vertical and horizontal machine position correction; Laser soft foot tool |
| | Automatic pdf report exportable via USB stick |
| | up to 8 hours continuous use at 100% backlight (5 000 mAh rechargeable LiPo battery) |
| | up to 12 hours continuous use (2 000 mAh rechargeable LiPo battery) |
| | 530 × 110 × 360 mm (20.9 × 4.3 × 14.2 in.) |
| Total weight (incl. case) | 4,75 kg (10.5 lb) |
| | 0 to 45 °C (32 to 113 °F) |
| | IP54 |
| | Supplied with 2 years validity |

Accessoires

Storage/Shipping Cases

Cases ranging from aluminum to plastic for pump storage and delivery are available to fit the pumps and tools.

Roll Cage

A protective aluminum roll cage is available for all pumps. This cage is standard on all SV pumps.

Foot Switch for EP and SV Pumps

The foot switch allows the pumps to be operated hands-free. It is only available for the EP and SV pumps.

Twinline High Pressure Hydraulic Hoses

Each pump comes standard with one set of 15' twinline hydraulic hoses. The hoses are 4:1 safety rated and made of durable steel mesh in a protective rubberized coating. Longer lengths of hoses available to accommodate various needs.

Storage/Shipping Cases

Cases ranging from aluminum to plastic for pump storage and delivery are available to fit the pumps and tools.

Roll Cage

A protective aluminum roll cage is available for all pumps. This cage is standard on all SV pumps.

Heat Exchanger

The heat exchanger cools the oil in the reservoir, extending runtime. It is available only for the EP1000/EP1000-Q models in both 115V and 230V.

Foot Switch for EP and SV Pumps

The foot switch allows the pumps to be operated hands-free. It is only available for the EP and SV pumps.

5 Gallon Reservoir

The larger reservoir allows for more oil to run through the system, increasing run time and minimizing the temperature of the oil. It is available only for the EP1000/EP1000-Q models in both 115V and 230V.

Twinline High Pressure Hydraulic Hoses

Each pump comes standard with one set of 15' twinline hydraulic hoses. The hoses are 4:1 safety rated and made of durable steel mesh in a protective rubberized coating. Longer lengths of hoses available to accommodate various needs.

Documenten / downloads