AP-SERIE luchtaangedreven hydraulische momentsleutelpomp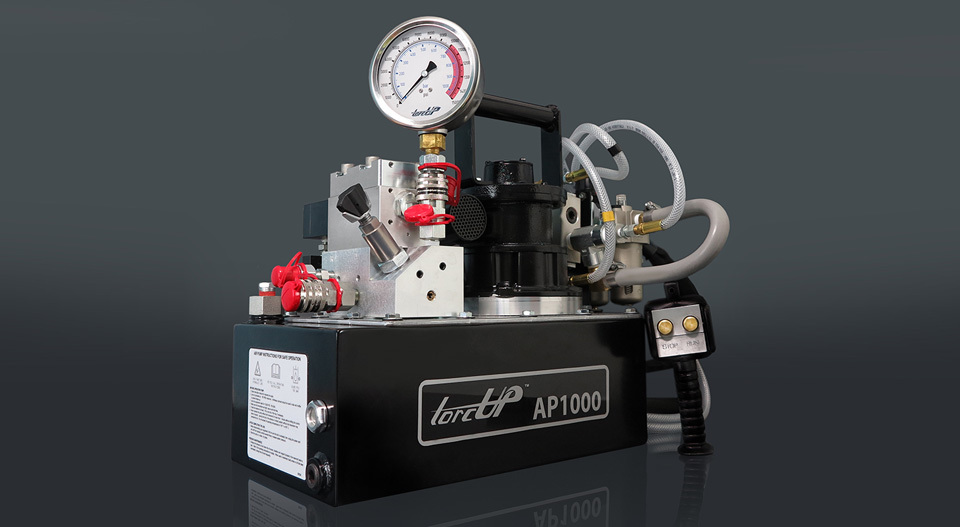 De meest perfect compacte hydraulische momentsleutelpomp in de industrie
De TorcUP hydraulische momentsleutelpompen uit de AP-serie zijn ontworpen om pneumatisch aangedreven te worden in de zwaarste en meest veeleisende omgevingen EX... ook op plaatsen waar dit vereist is.. VEILIG! Volledig instelbereik tot 10.000 psi / 700 bar.
IS ER VOOR U ALS ELEKTRICITEIT NIET BESCHIKBAAR IS
Made in the USA
Multi-Port-model beschikbaar
Lucht aangedreven 100 psi / 50 cfm
Inclusief 3 Meter (15′) Hydraulische twin slang
Een TorcUP-ontwerp
De AP-serie is er voor u als er geen elektriciteit beschikbaar is. In explosieve omgevingen of in toepassingen waar lucht gemakkelijker beschikbaar is dan elektriciteit, zijn de AP-serie pompen een ander voorbeeld van TorcUP's aandacht voor de behoeften van onze klanten. De AP-serie is geschikt voor maximaal vier tools en biedt veiligheid voor uw toepassing.
Specificaties

Model #
Reservoir Capacity
Model
Valve System / Function
Pendant
Motor Spec
Flow Rate
Weight
AP1000
1.5Gal /
5.7 litre
Torque
Auto Retract / Advance/Retract
Motor /
Solenoid Control
4HP @ 100psi /
50cfm
700 cu. in./min. @ 0 psi 55 cu.in./min.@10,000 psi (11.5 litres/min. @ 0 bar 0.9 / min. @ 700bar)
67.65lbs /
30.7 kg

Afmetingen

| Usable Reservoir Capacity | A | B | C | D |
| --- | --- | --- | --- | --- |
| 1.5 gal / 5.7 litre | 15.13 in / 384 mm | 8.75 in / 222 mm | 16.09 in / 409 mm | 5.94 in / 151 mm |

Kenmerken

Heavy Duty Air Motor

The powerful 4HP motor driving the AP1000 Series runs on 50cfm / 90PSI. It is well suited for heavy industrial applications.

---

High Output Two Stage Assembly

The sub-pump assembly of the AP1000 is a two stage design which allows for a high flow rate with less drag on the air motor.

---

Precise PSI/BAR Gauge

The TorcUP gauge display shows PSI and Bar for use around the world.

---

Rugged Remote

Each pump includes the 15' low-voltage ergonomic remote operation pendant. The durable design is suited for the harshest environments.

---

Industrial Reservoir

Powder coated aluminum reservoir is lightweight yet durable for operating in the harshest environments. Both the single port and quad versions come with a 1.5 gallon reservoir.

---

Easy View Sight Glass

Sight glass enables operator to monitor reservoir oil levels..

---

Quadra-Torc Option

The pump can be ordered with an installed four port manifold for operating four tools concurrently. This version comes complete with a 1.5 gallon reservoir.

---

Pressure Adjustment Knob

The easily accessible knob allows the user to adjust the pressure output of the pump, increasing or decreasing torque when necessary.

---

Twinline High Pressure Hydraulic Hoses

Each pump comes standard with one set of 15' twinline hydraulic hoses. The hoses are 4:1 safety rated and made of durable steel mesh in a protective rubberized coating.

---

No Drip Quick Connect Couplers

These 3:1 rated safety couplers are designed for simple engagement. The coupler collar ensures safe operation.

Accessoires

Storage/Shipping Cases

Cases ranging from aluminum to plastic for pump storage and delivery are available to fit the pumps and tools.

Roll Cage

A protective aluminum roll cage is available for all pumps. This cage is standard on all SV pumps.

Twinline High Pressure Hydraulic Hoses

Each pump comes standard with one set of 15' twinline hydraulic hoses. The hoses are 4:1 safety rated and made of durable steel mesh in a protective rubberized coating. Longer lengths of hoses available to accommodate various needs.

Documenten / downloads