Ancillary Equipment Pump Units & Hoses
TorcUP Mini Air Driven Pump Unit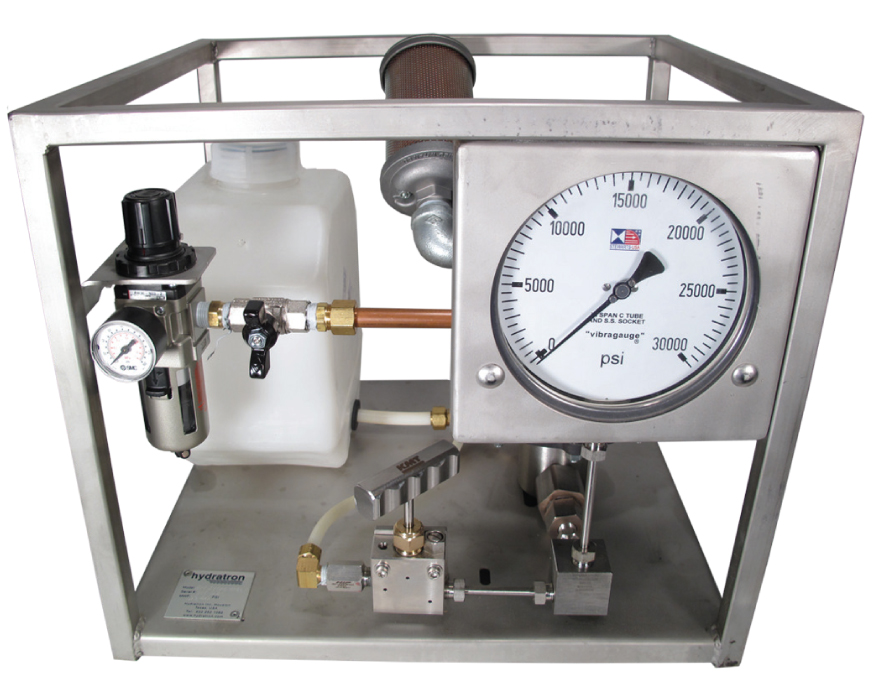 TorcUP Air Driven Pump Units operate on the simple but efficient principle of power magnification through the use of differential areas. A relatively large air-operated piston drives the smaller piston, which provides fluid flow at high pressures. All TorcUP air driven pump units are fitted into an easily transportable, stainless steel frame.
The pump units are available, fitted with a large choice of pressure gauges and are supplied complete with an air pressure regulator which can be set to stall the pump unit when it reaches the pressure required for each particular tensioning application.
Technical Specifications
TorcUP supplies many different air driven pump units of varying pressure and fluid discharge specifications.
In the document you find details of the the main tensioning airpump, the model TP-1000 Series.
The TorcUP standard tensioning pump configuration is the model TP-1000-A275, with a maximum working pressure of 1900bar fitted with a suitable gauge and outlet connection.
For higher pressure needs the model TP-1000 series pump can be configured with a 2900bar max working pressure, fitted with a suitable gauge and outlet connection.
Part number TP-1000-A425
TorcUP Hand Operated Pump Unit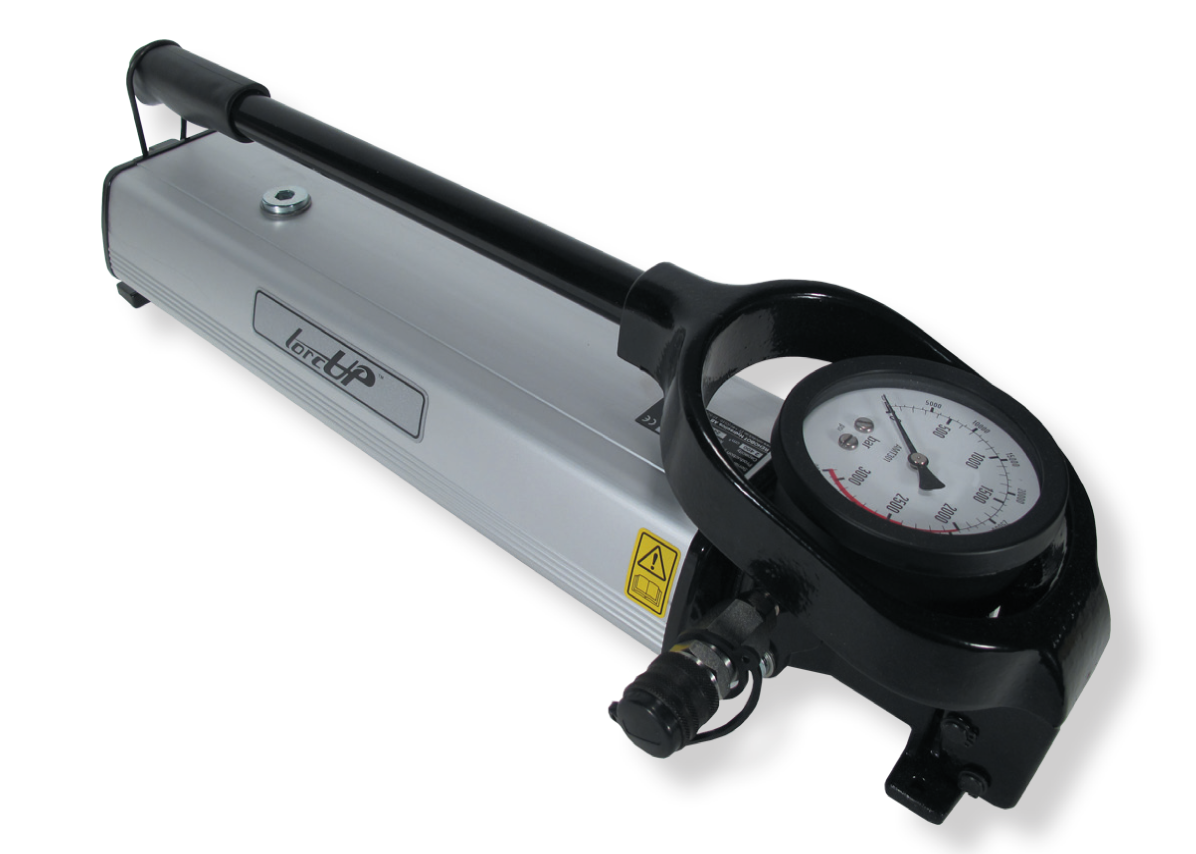 The TorcUP 2 stage hand pumps come with a pressure gauge as standard, this gives the user precise and safe control over the work carried out. The gauge is directly mounted onto the pump and is well protected by the designed pump lever.
Light weight and compact design
Two speed operation reduces handle stroke single speed pumps
Lower handle effort to minimize operator fatigue
Handle lock and light weight construction for easy handling
Large oil capacity to power a wide range of bolt tensioners
Fitted with compact pressure gauge
Fitted with quick release female connection
TorcUP also supplies a range of flexible high pressure hoses, suitable for use with TorcUP bolt tensioning products
Features:
Return connection on all pumps
Robust design
Aluminium tank
Easy and simple maintenance
Needle release valve - offers full control
Easy to refill oil
Mounting holes for fixed installations
Hydraulic Link Hose

The TorcUP Link Hose system is the quick and easy way to connect multiple or single bolt tensioning tools to a power pack pump. The high quality flexible hose is fitted with suitable male and female quick release hydraulic connections that make linking bolt tensioning tools fast and simple. TorcUP Link Hoses are supplied in 1m, 3m and 5m lengths. Other lengths are available on request.
Quick Release End Connections
Nominal flow dia.: 2.5 mm - 3/32"
Working pressure: 21750 PSI (1500 bar)
Connections: Female/male thread, with adapter
Material:

Coupling: Black zinc plated steel
Nipple: Black zinc plated steel
Hose Specification
Working pressure: 21750 PSI (1500 bar)
Connections: G1/4 fitting
Material: Four spiral layers of maximum tensile steel wire.
Cover: Polyamide, Blue
Min Bend Radius: 155mm
Temperature Range: -10oc to +70oc for water
Features
High pressure rating
Compact design
Unique patented sealing design
Non-Drip on connection and disconnection
Dust caps included as standard
Built-in safety device to avoid unintentional disconnection
Tranparent, ANTI ABRASION covering entire length of hose