Stationaire walsen meetsysteem van WMG, wordt op het support van de slijpmachine geplaatst of, afhankelijk van de machines, tegenover het slijpwiel gemonteerd.
Walsen, cilinders en rollen met een diameter van100 en 2600 mm kunnen zo eenvoudig en nauwkeurig worden gemeten.
Afhankelijk van welk type meetsysteem toegepast is, kan het automatisch in het slijp procedure worden opgenomen. U kunt hiermee de slijp tijd verminderen en de slijp procedure aanzienlijk vereenvoudigen.
Mogelijke soorten meting van stationaire roll meetinstrumenten:
Profiel metingen: cilinder, bombage, CVC, bijzondere vormen
Rotatie metingen: rondloop, rondheid
Plaatsbepaling: roll positie horizontaal, verticaal
Absolute Meting: Diameter
Stationaire walsen meetsystemen van WMG zijn beschikbaar als online of offline versie.
Online walsen meten
Online walsen meten, betekent dat de walsen tijdens het slijpproces gemeten worden. De gemeten waarden en daarmee het huidige profiel wordt voor het slijpen gemeten en naar de besturing van de slijpmachine gestuurd. Dit berekent dat de afwijking van de theoretische doelprofiel in het volgende slijpproces wordt bijgestuurd / gecorrigeerd.
Belangrijkste onderdelen
In de meetopstelling bewegen beide meetarmen tijdens de meting.
Nauwkeurige geleidingen en een zeer nauwkeurige positionering van de meetarmen.
De meetcassette is aan de draaibare kolom bevestigd. De gehele meetunit kan weggedraaid worden om tegen schade te beschermen.
De constructie van de meetopstelling wordt zeer robuust en stabiel uitgevoerd.
Bots bescherming
Komen de meetarmen in de botsing, dan voorkomt de WMG Swivel-Safe-Einrichtung dat er beschadigingen aan het meetsysteem of de machine komen.
De meetopstelling zwaait over een stabiele as zijwaarts weg.
Na een slijpgang kunnen de meetarmen eenvoudig weer in de meet beginstand worden teruggeplaatst worden.
Ook, is elke meetarm met WMG Swivel-Safe-Einrichtung uitgerust. Bovendien kunnen kwetsbare gebieden beschermd worden specifiek door onze 3D-Schakelaar met veiligheid beugel. De schakeloptie reageert in alle richtingen.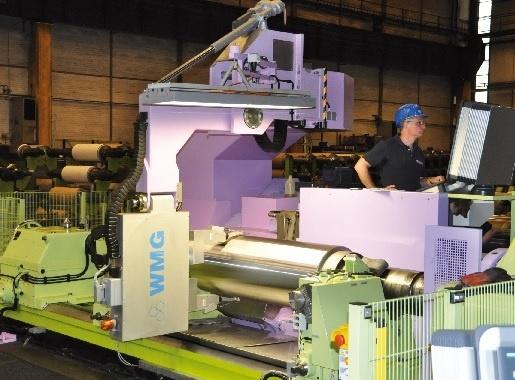 Offline Walsen meetsysteem
De WMG off line meetsysteem is geschikt voor alle slijpmachines rollen. Het is leverbaar tot een wals diameter van 2.600 mm.
Horizontale balk en de meetarm zijn van koolstofvezel materiaal gemaakt om doorbuiging en het eigengewicht zo laag mogelijk te houden.
De meettasters zijn afgeschermd gemonteerd zodat ze tegen vuil beschermd zijn. Een separaat gelagerde tast kop brengt de (wals-profiel) meting over op de taster. Beide bevestigingen van de meettaster zijn fijn instelbaar. Voor het doorhangen of lagermeting kan één meetkop 90° gedraaid worden.
Wij leveren voor elke te meten oppervlakte de juiste taster: met een snijkant gemaakt van hardmetaal, het meet contactvlak van hardmetaal, Teflon, of een meetrol.
De meting wordt verricht tussen de slijp cyclus in. De gemeten gegevens zijn overgebracht naar het slijp besturingselement en wordt daar gebruikt voor de automatische correctie. Automatisering niveau en uitbreiding volgens uw individuele wensen van de geheel manual tot de volautomatische meettoestel.