65'000 Nm or 130'000 Nm Options
7 Tons
1200 mm/20 sec
300 Bar
6000 Nm at 8 RPM
300 Bar (Standard)
500 Bar (With Optional Intensifier)
1200L
800L
Grey and Red
380/415/460V, 50/60 Hz, 3 phase, 15 amp
15000mm (L) x 1250mm (w) x 1620mm (h)
Maximum Rotational Torque
Maximum Rod Extraction Force
Max Rod Extraction Speed
Hydraulic System Pressure
Hydraulic Nut Runner
Cylinder Pressure Test Capacity

Hydraulic Fluid Reservoir
Waste Oil Reservoir
Colour
Electrical System
Floor Space (15-meter bench)
Maximum Part Weight
Maximum Cylinder Length
Maximum Cylinder Barrel
Maximum Cylinder Flange
Maximum Clevis Width
Maximum Clevis Diameter

6000kg / fixture
Not Applicable - Modular Base
620 mm
800 mm
700 mm
620 mm

Please Note: These are standard specifications.
Special systems can be designed to suit specific requirements.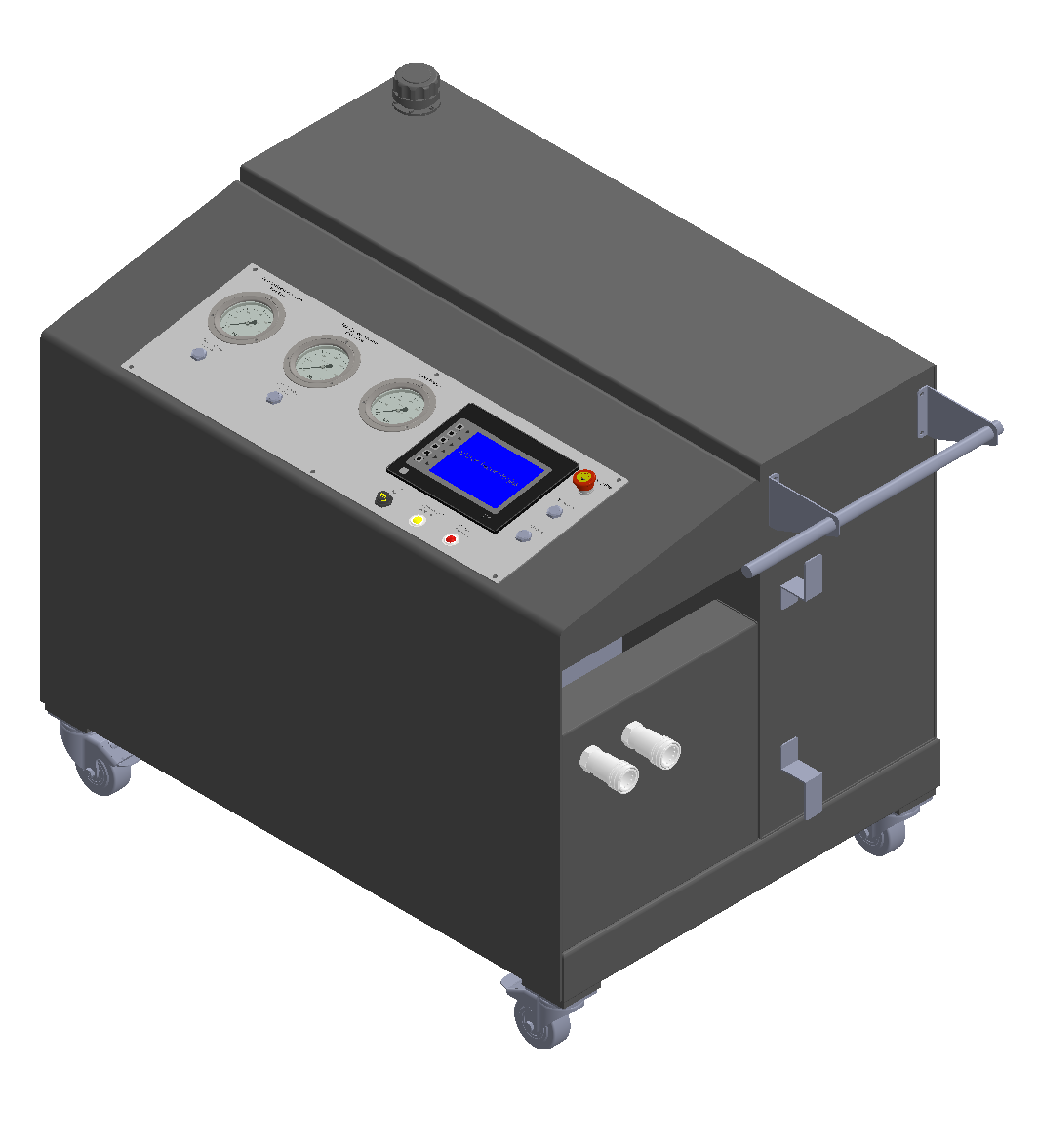 STAND ALONE
TEST BENCH
More Info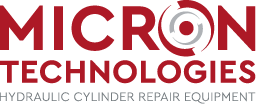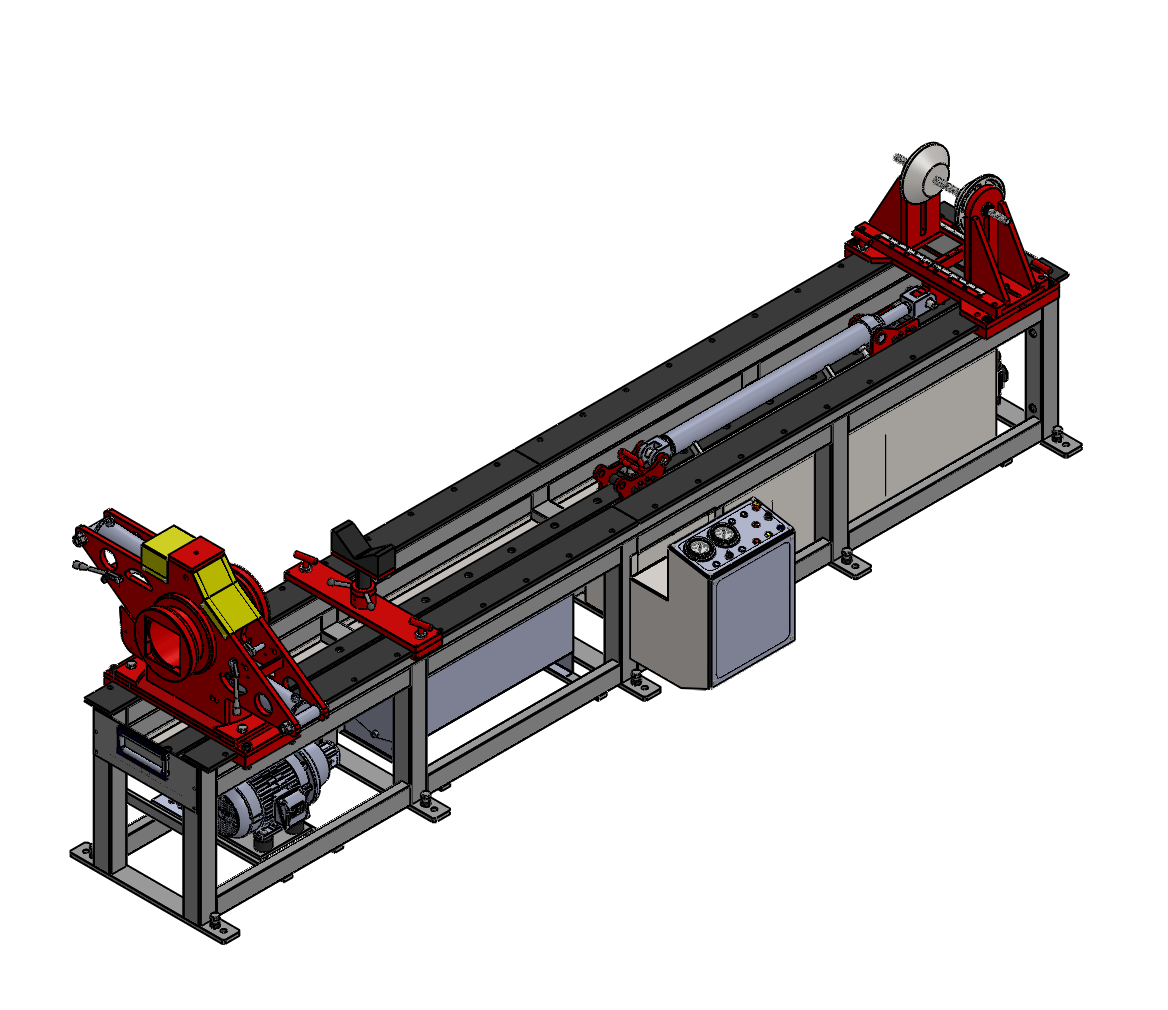 NUT CRACKER
FUNCTION ONLY
More Info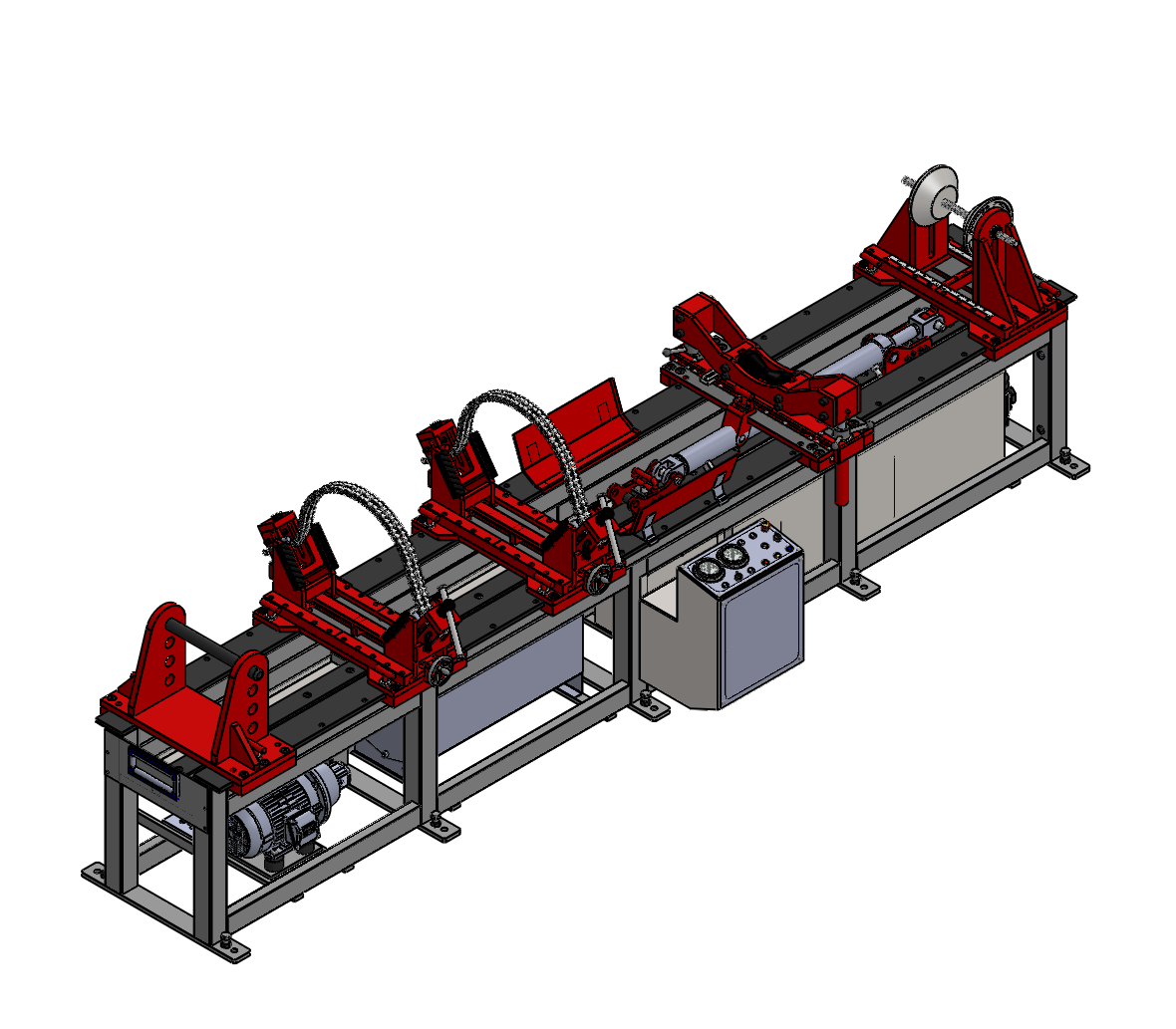 STRIPPING / ASSEMBLY
FUNCTION ONLY
More Info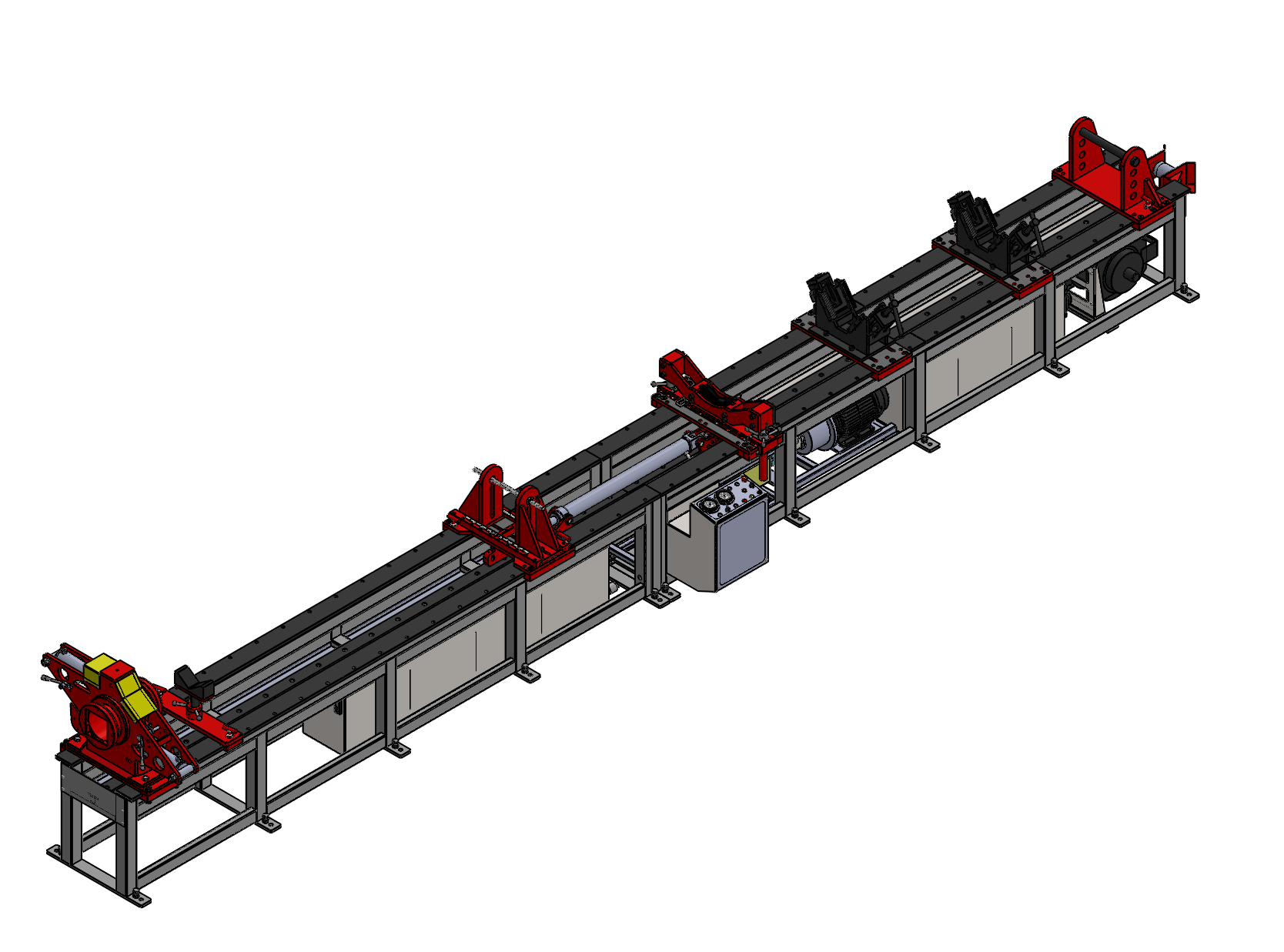 NUT CRACKER &
STRIPPING / ASSEMBLY FUNCTIONS
(NO PRESSURE TESTING CAPABILITY)
More Info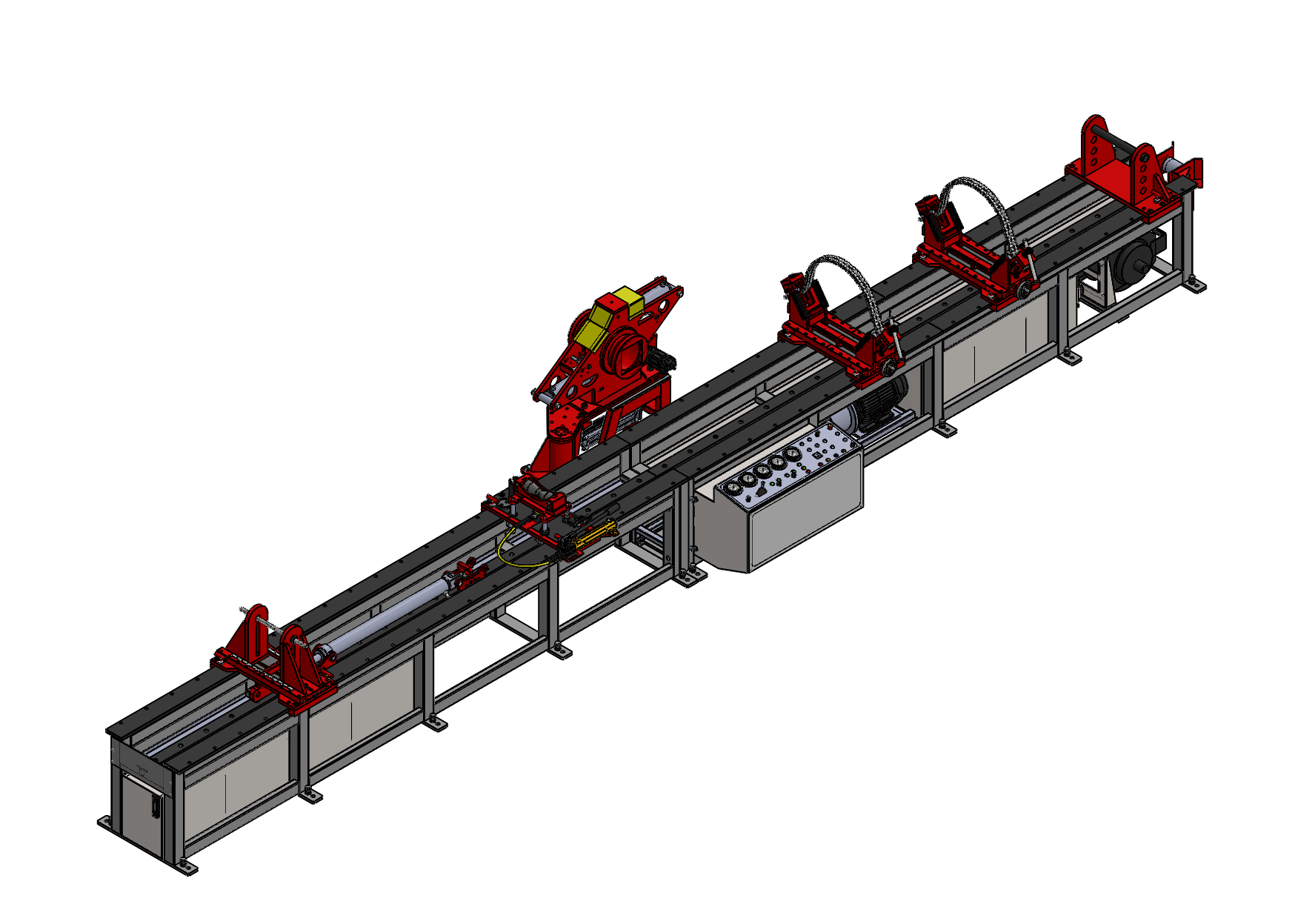 NUT CRACKER &
STRIPPING / ASSEMBLY FUNCTIONS
VISUAL PRESSURE TESTING
CAPABILITY TO 200 BAR
More Info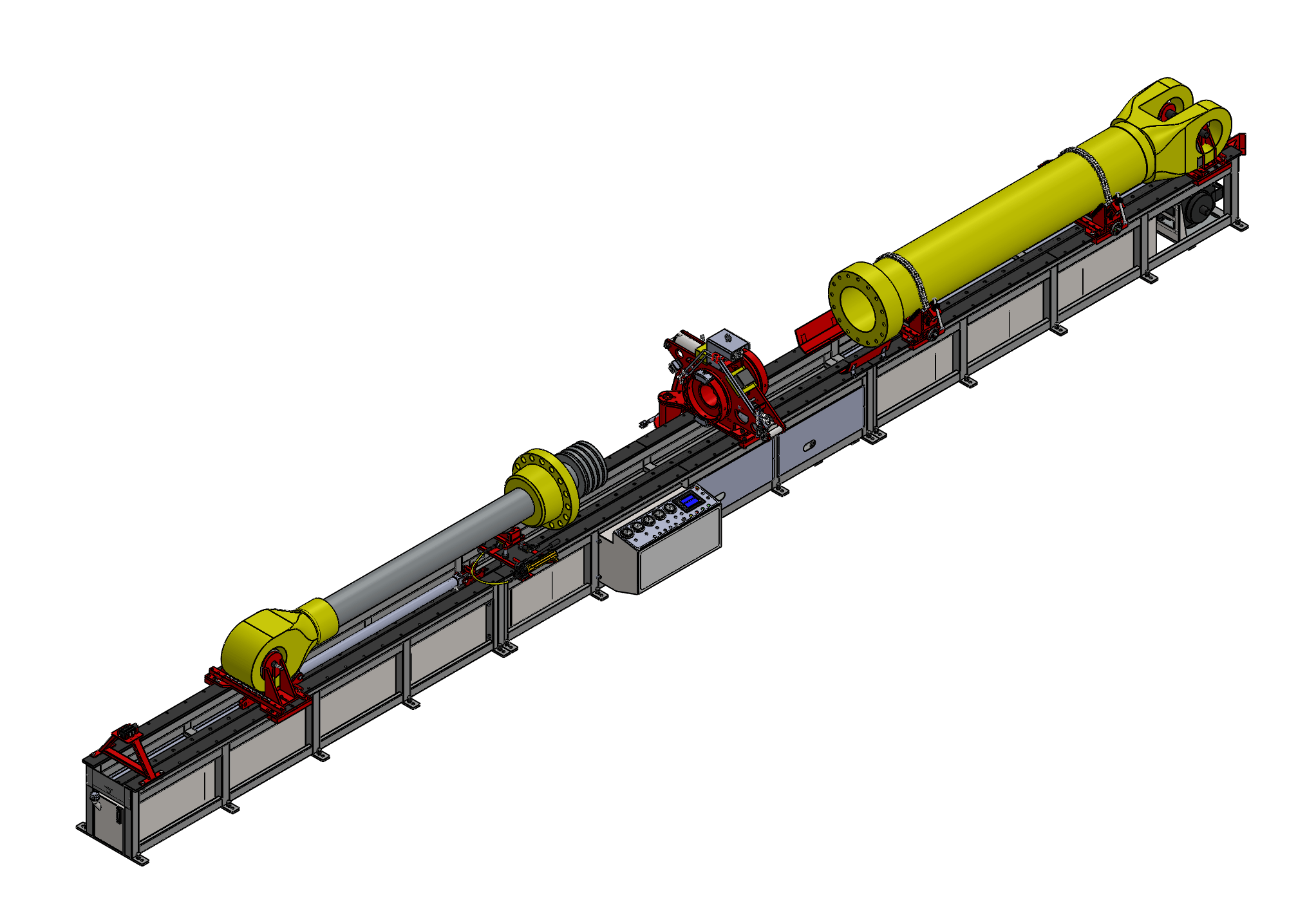 130'000 NM NUT CRACKER &
STRIPPING/ASSEMBLY FUNCTIONS
DIGITAL PRESSURE TESTING
WITH LASER STROKE MEASUREMENT
AND DATA LOGGING TO 300 BAR
(OPTIONAL 500 BAR)
More Info
Hydraulic cylinder repair, disassembly and assembly Bench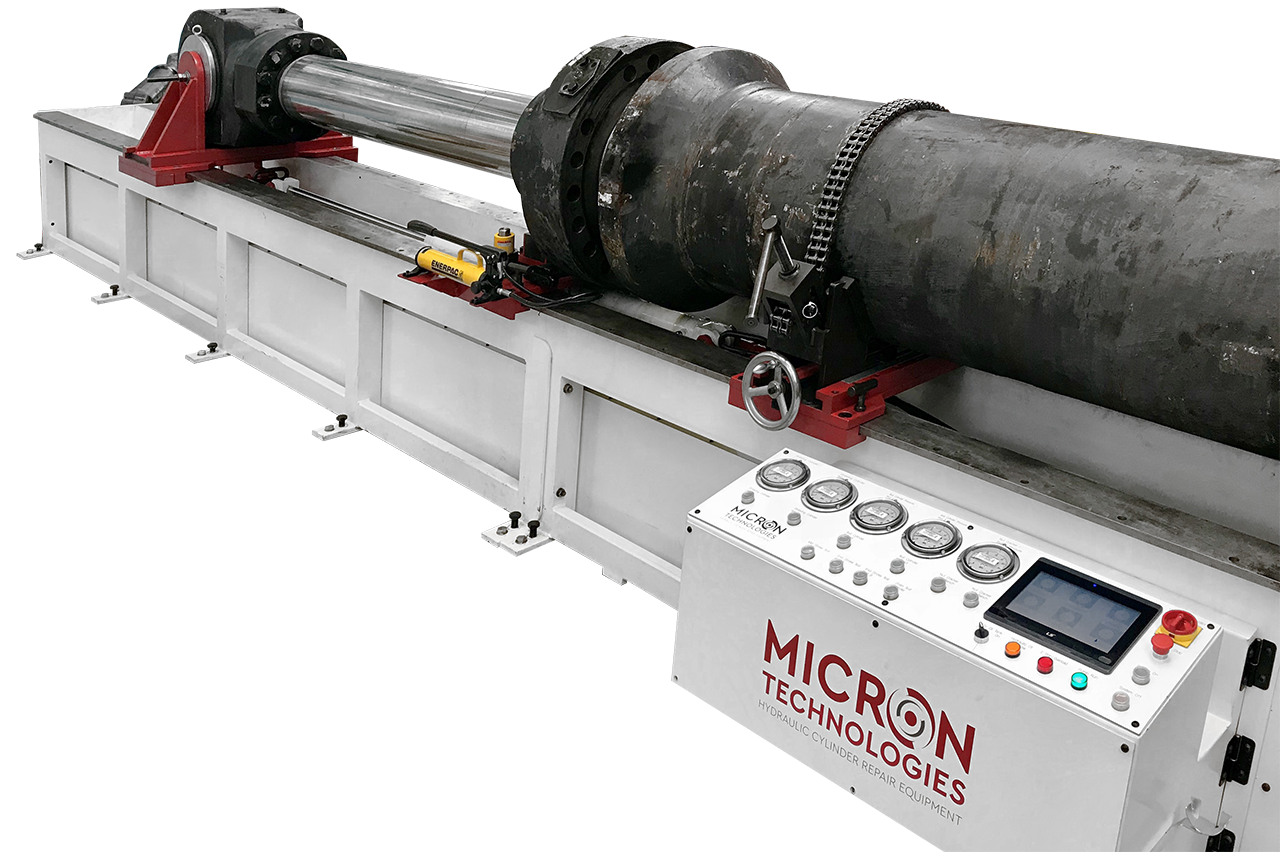 Advantages of the Micron Hydraulic Cylinder Repair Bench, Disassembly, Assembly and Test Bench in one to easily repair hydraulic cylinders.
Solid, full-length bench design provides more usable working space and the flexibility to accommodate additional repair functions. Bench design is suitable for large, heavy cylinders (rated for 6000kg / fixture). Stronger design means machine longevity and improved operator safety.
Tool slide plates, together with our proprietary height-adjustable chain vice tools, ensure that any cylinder or rod configuration can be safely secured on the bench and adjusted to a common tool centreheight. This gives the user maximum flexibility in disassembling and reassembling any cylinder configuration.
Windows™ Embedded Touch Screen HMI to control bench functions and system limits (such as piston nut torque pre-sets). Complete with operator safety prompts.
Integrated Cylinder Pressure Test function with digital export of cylinder test results. Optional Linear Encoder caters for stroke length measurement and automated multi-point cylinder test protocols.
True "Single Operator" functionality. Best-of-class operator safety.
Optional Nut Cracker Swing Table facilitates access to the piston nut without turning the piston rod or removing the cylinder barrel as with competitive offerings.
The Nut Cracker utilises a simple and effective ratchet mechanism for maximum power with hex socket type adapter for piston nuts up to 345mm across flats.
Re-assembly is achieved through reverse rotation using the same tooling. Precise control of system pressure allows nuts to be re-torqued to OEM specifications using torque pre-sets entered into the HMI.
Inexpensive tooling that can be easily set up and used. Tooling can be purchased individually as required. Tooling inserts can be fabricated to accommodate custom jobs.
Bench design is modular and can be extended should the need arise.
Full-length oil collection tray for cleaner operation. The oil collection system will capture the residual oil left in the cylinder and transport it back to a waste oil reservoir. This will reduce clean-up costs and improve workplace safety.
Lower machine cost, Lower tooling costs, Easier set-up, Safer, Cleaner operation and more flexibility all add up to a more efficient use of your equipment investment and floorspace.
---