TXU SERIES Uniswivel Low Profile Hydraulic Torque Wrench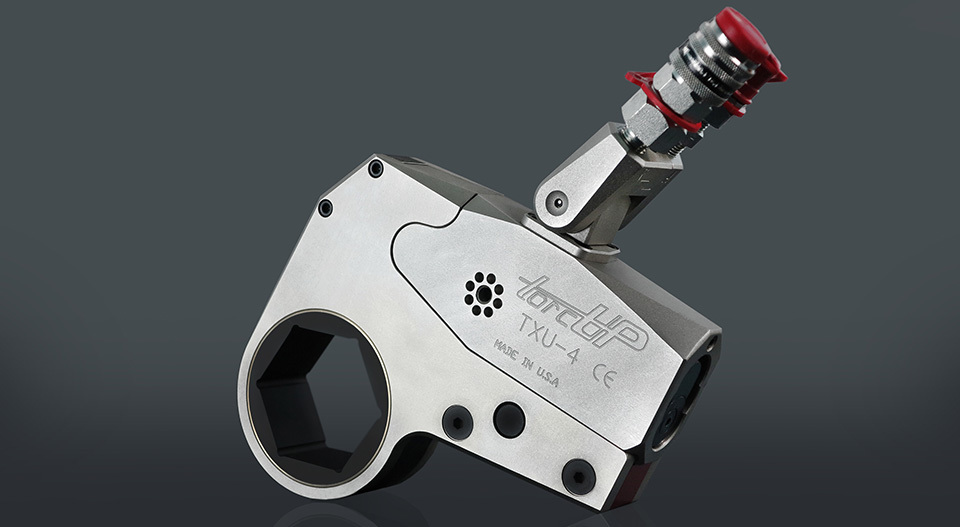 The Flattest And Most Application Rotatable Hydraulic Bolting Tool In The Industry
The TXU series covers all the bases when it comes to giving you tight clearance application fitment. Not only does this tool address nut circumference issues, it also allows for shorter tool length fitment between application obstructions. With the hose swivel assembly positioned above the tool housing torque can be applied on every application with an accuracy of +/-3%.
Even More Application Adjustable!
Made in the USA
Three Models From 192 Ft/Lbs to 8,630 Ft/Lbs 260nm. to 11699nm.
Every Unit Calibrated In ISO17025 Laboratory
Manufactured With AQ Certified Alloys
Genuine TorcUP Design
We started with the greatest low clearance hydraulic wrench, the TX series, and made it even more application adjustable. Every limited clearance bolting application poses a challenge, but now with the TXU further problems are solved. With the hose swivel assembly being positioned above the tool the hydraulic cylinder and link length are shortened, thus getting the tool into the "IN BETWEEN" challenging applications.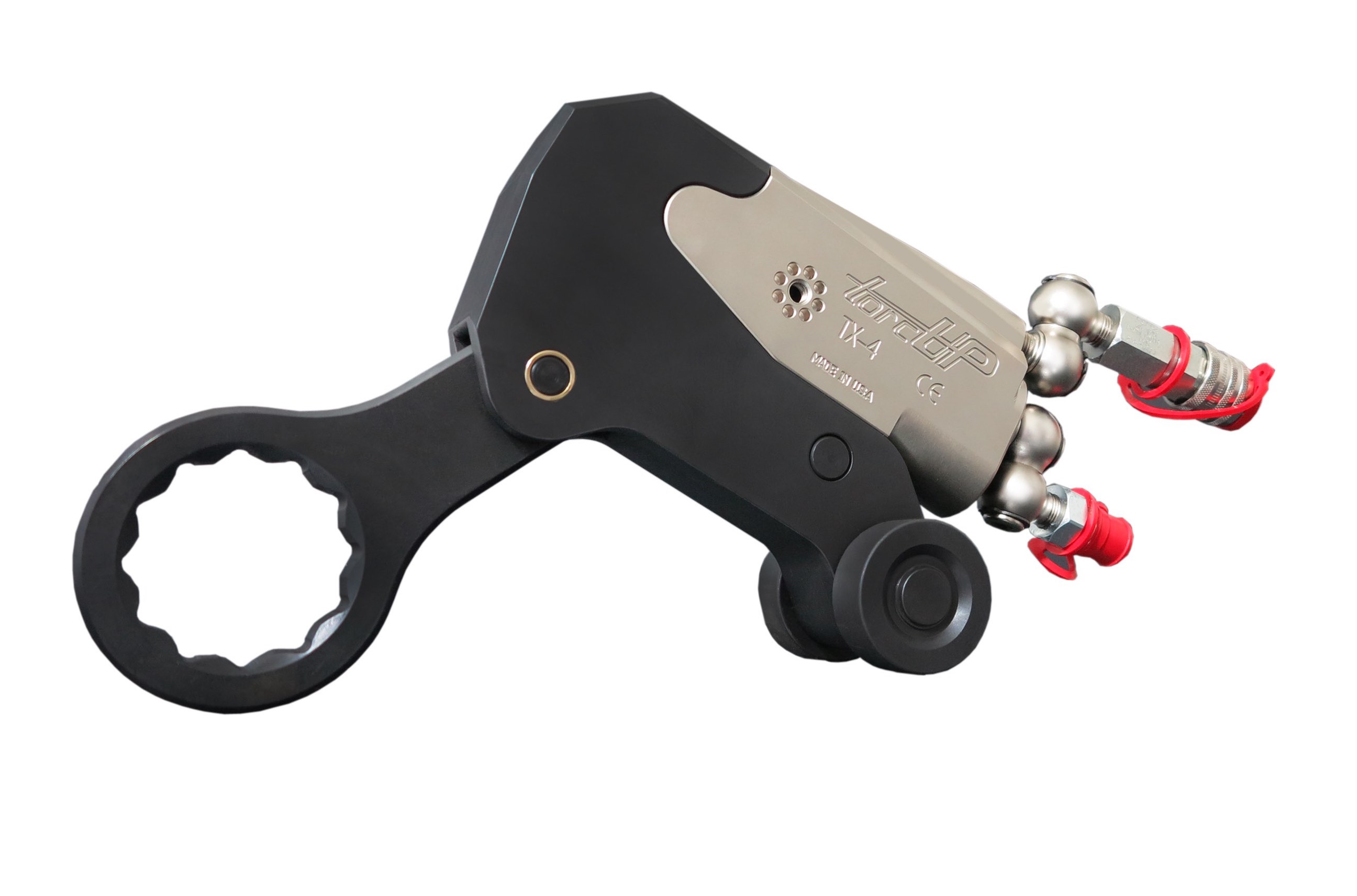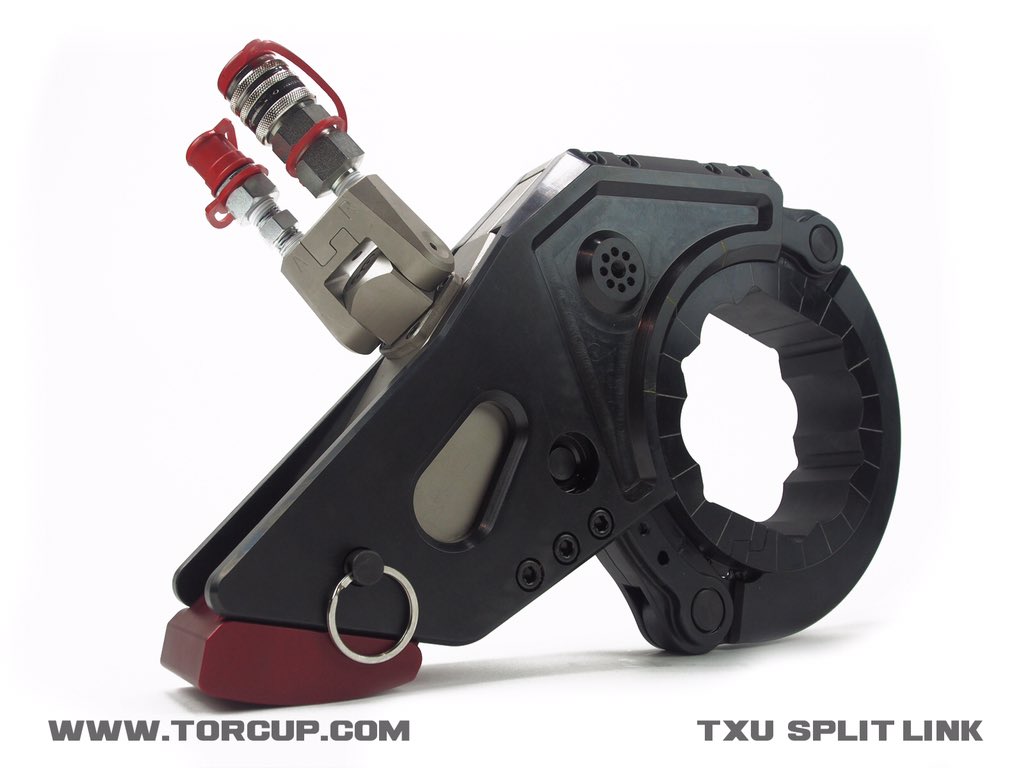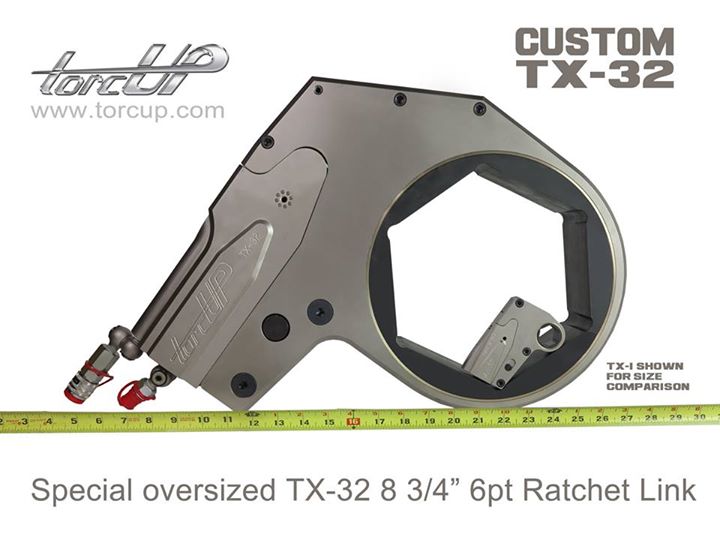 Features

Uni-Swivel Design

The 360 degree by 180 degree uni-swivel allows for shorter tool length, accommodating applications with obstructions.

Patented "Peanut-Shaped" Piston

This feature allows the cylinder and ratchet link to be the same width. Friction reducing sliders prevent wear on the piston.

Hex Link Cassettes

Each link is fitted with steel alignment pins connecting the lower reaction area for added strength.

No Drip Quick Connect Couplers

These 3:1 rated safety couplers are designed for simple engagement. The coupler collar ensures safe operation.

Cylinder and Link Material

Both cylinder and link are manufactured from 4340 Aircraft Quality high strength steel alloy.

Nose Radius

Tight nose radius allows this tool to fit in applications where clearance constraints make other tools too bulky.

In-Line Reaction Pad

This design ensures torsion-free reaction every time.

Link Pin

One pin for link to cylinder engagement - no tool required for swapping ratchet links.

Technical Data

| Model Number | TXU-2 | TXU-4 | TXU-8 |
| --- | --- | --- | --- |
| Min Torque (ft/lbs) | 192 | 395 | 830 |
| Max Torque (ft/lbs) | 1928 | 3950 | 8630 |
| Output Accuracy | +/- 3% | +/- 3% | +/- 3% |
| Repeatability | 100% | 100% | 100% |
| Duty Cycle | 100% | 100% | 100% |
| Cylinder Weight | 4.00lbs / 1.8kg | 6.90lbs / 3.1kg | 12.50lbs / 5.7kg |
| Link Weight From (lbs) | 2.40 | 5.40 | 11.90 |
| Link Weight To (lbs) | 3.50 | 7.60 | 14.50 |
| Link Weight From (kg) | 1.00 | 2.40 | 5.50 |
| Link Weight To (kg) | 1.50 | 3.40 | 6.50 |
| Hex range from | 3/4" / 19mm | 1" / 25mm | 1 7/8" / 49mm |
| Hex range to | 2 9/16" / 65mm | 3 1/8" / 80mm | 4 5/8" / 120mm |

| Model Number | TXU-2 | TXU-4 | TXU-8 |
| --- | --- | --- | --- |
| Length 1 | 6.45" / 163.8mm | 7.87" / 199.9mm | 10.18" / 258.6mm |
| Length 2 | 5.99" / 152.1mm | 6.55" / 166.4mm | 7.34" / 186.4mm |
| Width 1 | 1.25" / 31.8mm | 1.63" / 41.4mm | 2.05" / 52.1mm |
| Width 2 | 2.19" / 55.6mm | 2.26" / 57.4mm | 2.26" / 57.4mm |
| Radius | 0.36" / 9.1mm | 0.46" / 11.7mm | 0.54" / 13.7mm |
| Height 1 | 3.84" / 97.5mm | 4.93" / 125.2mm | 6.18" / 157.0mm |
| Height 2 | 1.11" / 28.2mm | 1.30" / 33.0mm | 1.30" / 33.0mm |

Accessories

TXU Inline Reaction Arm

This arm can be attached to the drive cylinder and ratchet link to provide a reaction area further from the tool.

TXU Tool Handle

This ergonomically designed handle for TorcUP hydraulic tooling can be attached to the tool for safe operation and positioning of the tool, while keeping hands clear of any reaction points.

TXU Low Point Reaction Paddle

The paddle allows for a reaction point below the tool or against the edge of the flange.

TXU Link Pin With Landyard

The lanyard design for this accessory allows the link pin to be tethered to the tool, preventing lost or dropped pins when switching out ratchet links.

TXU Spanner Wrench

The line of spanner wrenches for the TX Series, available in closed end standard sizes and open or closed custom sizes, is a unique solution for applications where traditional links will not fit.

TXU Hex Reducer

Custom hex reducers are available for all TX models to reduce the hex openings on the links. These bushings can reduce 3/16" (5mm) or more, depending on need.

TXU Hex to Square Drive Adaptor

Custom hex to square drive adaptors are available to insert a square drive (or hex drive) into a link for use with industrial impact sockets.

Documents / Downloads