Green Laser Roll Alignment system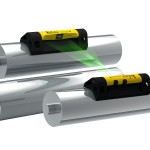 SX-5150 RollCheck® Green
What you see is what you get:
If you need to quickly replace rolls in your processing plant, the SX-5150 RollCheck® Green is the perfect option.
Like several of our high-quality laser alignment tools, the RollCheck® Green takes advantage of green laser technology and is 10 times brighter than alignment systems that use standard red lasers.
In addition to a brighter laser system, this tool also makes use of reflected beam technology. The RollCheck® Green projects laser lines from a reference roll onto a reflector unit, and back to the reference roll.
This allows you to see whether your rolls are parallel and because of the simplicity of this product, you will no longer have to go through trial and error tests in order to determine if your rolls have correct alignment. Requiring little to no training, this system is easy to use and has a compact design, allowing you to store it in any space. The RollCheck® Green is useful for shots up to 10 feet long, and it can assist in increasing your production.
Advantages and features

-

Green is 10x brighter than red
Reduces down time and product waste due to misalignment of rolls
Increases production with proper alignment of rolls
Compact design, fits into small spaces
Fast and easy
Shows parallism and horizontal offset at the same time
No training required
One-person operation
Facilitates more frequent roll checks
Uses proven reflected laser beam technology
Pays for itself quickly
Used for shots up to 10 ft. / 3 meter or better

Video

Documents / Downloads