SQ SERIES Square Drive Hydraulic Torque Wrench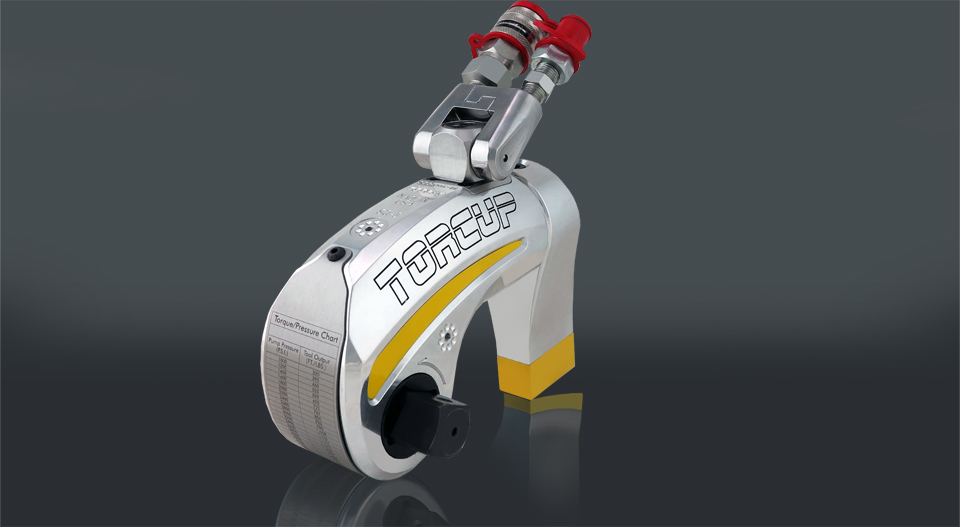 The Shape Of The Future Combined With Proven Durable Technology
The SQ series is a masterpiece of style, capability and durability. Now offering our perfected Uni-Swivel design, the SQ can adapt to any job site application. Within this tool, you will find our proven "Three Moving Part" technology which provides application accuracy of +/-3%. Engineered to master any application, the SQ matches its amazing looks with the safest and most reliable results.
The World's Sexiest Looking Hydraulic Wrench!
Made in the USA
Seven Models From 127 Ft/Lbs to 11,000 Ft/Lbs.
Every Unit Calibrated In ISO17025 Laboratory
Manufactured With AQ Certified Alloys
Genuine TorcUP Design
The SQ Series proves that TorcUP is again the producer of "The Worlds Sexiest Looking Hydraulic Wrench" – FACT. We don't need to say this tool looks GREAT because our competitors do!! Equaling great looks the SQ Series benefits from an all VASCOMAX "Three Moving Part" component system. No other company creates ALL of their internal torque components out of VASCOMAX … Only TorcUP.
Features

Patented Mono-Body Housing

This feature is a TorcUP exclusive. The SQ Series housing is machined from a single block of 7075 AQ Aluminum, which reduces torsion and flex on the body of the tool under pressure.

---

Uni-Swivel

The 360 degree by 180 degree uni-swivel allows for shorter tool length thereby accommodating applications with obstructions.

---

Push-Through Drive

The push-through square drive allows the user to switch easily from loosen to tighten without having to remove the drive.

---

Steel Reaction Boot

This feature protects the main reaction point of the arm and is field replaceable.

---

Laser Engraved Torque Chart

The dual sided shroud is laser engraved with the torque chart for the SQ Series, preventing lost charts during use.

---

Reaction Arm Release Button

The release button for the reaction arm is set within the arm as a safety feature, protecting the arm from accidental disengagement.

---

Multi-Tooth Drive Segment

This design ensures a 27 degree stroke each time the tool fully advances.

---

No Drip Quick Connect Couplers

These 3:1 rated safety couplers are designed for simple engagement. The coupler collar ensures safe operation.

Technical Data

| Part # | SQ-1 | SQ-3 | SQ-5 | SQ-10 |
| --- | --- | --- | --- | --- |
| Square Drive | 3/4" | 1" | 1 1/2" | 1 1/2" |
| Minimum Torque (Ft/lbs) | 132 | 292 | 587 | 1198 |
| Maximum Torque (Ft/lbs) | 1345 | 3425 | 5920 | 11908 |
| Minimum Torque (Nm) | 179 | 396 | 796 | 1624 |
| Maximum Torque (Nm) | 1824 | 4644 | 8029 | 16145 |
| Output Accuracy | +/-3% | +/-3% | +/-3% | +/-3% |
| Repeatability | 100% | 100% | 100% | 100% |
| Duty Cycle | 100% | 100% | 100% | 100% |
| Tool Weight (lbs) | 5.5 | 11 | 18 | 32 |
| Tool Weight (Kg) | 2.5 | 5 | 8.4 | 14.5 |

---

Part #
SQ-1
SQ-3
SQ-5
SQ-10
Height
3.76" /
95.5mm
4.91" /
124.71mm
6.05" /
153.67mm
7.34" /
186.44mm
Length 1
4.91" /
124.71mm
6.48" /
164.59mm
7.95" /
201.93mm
9.85" /
250.19mm
Length 2
6.47" /
164.34mm
8.48" /
215.39mm
10.70" /
271.78mm
12.85" /
326.39mm
Radius
0.99" /
25.15mm
1.31" /
33.20mm
1.57" /
39.88mm
2.13" /
54.10mm
Width 1
2.00" /
50.8mm
2.63" /
66.8mm
3.13" /
79.5mm
3.95" /
100.33mm
Width 2
2.75" /
69.85mm
3.68" /
93.5mm
4.64" /
117.86mm
5.47" /
138.94mm
Width 3
4.42" /
112.3mm
5.92" /
150.37mm
7.00" /
177.8mm
8.74" /
222.0mm

Accessories

SQ Direct Hex Drive Adaptor

Replace the square drive of your SQ tool with this hex drive adaptor to drive socket head cap screws.

SQ End Cap Protector

This accessory provides protection for the end cap when operating the tool without the reaction arm.

SQ Extended Reaction Tube

Attach this reaction tube in place of the standard reaction arm when your reaction point is located further from the nut.

SQ Solid Square Drive

This square drive provides a non-push-through variation for tightening and loosening.

SQ Solid Long Extension Arm

This solid reaction arm is 6" longer than the standard reaction arm of each tool, allowing for a further reaction point.

SQ Wide Reaction Arm

When your reaction point does not hit firmly at the center of the standard arm, this arm provides a wider reaction plane. This can be factory installed as an option. Only available for the SQ-1 and SQ-3.

SQ Tool Handle

This ergonomically designed handle for TorcUP hydraulic tooling can be attached to the tool for safe operation and positioning of the tool, while keeping hands clear of any reaction points.

Documents / Downloads