SV SERIES Hydraulic Torque Wrench Pump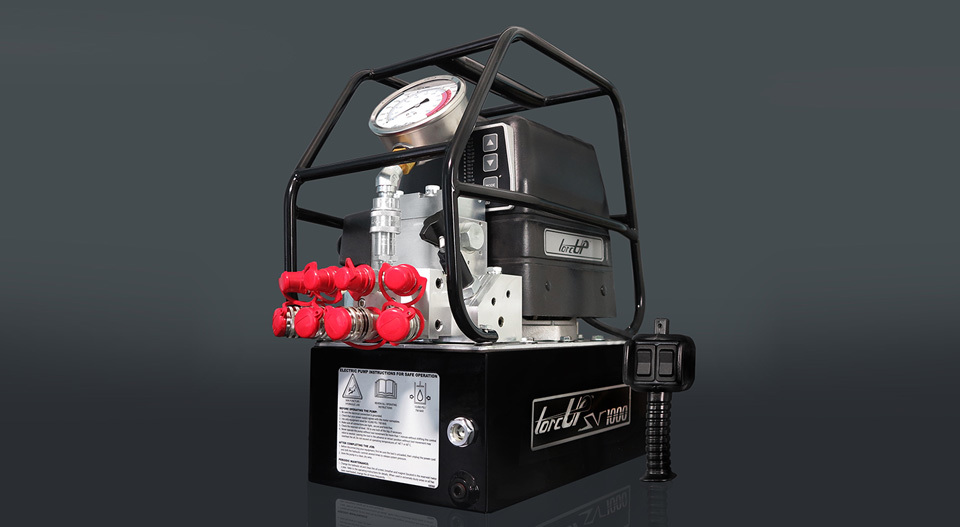 The Most Synchronous Hydraulic Torque Wrench Pump In The Industry
The SV series hydraulic torque wrench pump is the perfect synthesis of continuous ratcheting and power to torque. Full range adjustability up to 10,000 PSI / 700 Bar.
"SPEED" Mode For Quick Fastener Rundown
Made in the USA
Standard Multi-Port
Available in 115V and 230V
Supplied With 15′ (3 Meter) Hydraulic Hose
Genuine TorcUP Design
What makes the SV Series "SUPER"? It is the built-in circuitry that allows the operator to designate the specific tool being used. The pump will then autocycle in "SPEED" mode for quick fastener rundown. Once the nut is seated, activate the torque button to take the job to its final required setting. If speed is your focus, then the SV Series is the answer.
Specifications

Model #
Reservoir Capacity
Valve Model
Valve Style / Function
Pendant
Motor Spec
Flow Rate
Weight
SV1000
Torque
Auto Retract / Advance/Retract
Motor / Solenoid Control
1.5 HP @115VAC Single Phase
700 cu.in./min. @ 1,100 psi
55 cu.in./min.@10,000 psi (9.4 litres / min. @ 75 bar 0.9 / min. @ 700bar)
65.75 lbs /
29.8 kg
SV1000-230V
1.5 gal /
5.7 litre
Torque
Auto Retract / Advance/Retract
Motor / Solenoid Control
1.5 HP @230VAC Single Phase
701 cu.in./min. @ 1,100 psi
55 cu.in./min.@10,000 psi (9.4 litres / min. @ 75 bar 0.9 / min. @ 700bar)
65.75 lbs /
29.8 kg

Dimensions

Usable Reservoir Capacity
A
B
C
D
E
1.5 gal. /
5.7 litre
8.75 in /
222 mm
5.96 in /
151 mm
15.13 in /
384 mm
18.1 in /
460 mm
16.85 in /
428 mm

Features

Tool Selection Display

Industrial grade LED membrane switch enables quick selection of tool for auto cycle operation.

---

Powerful 1.5 HP Motor

The permanent magnet motor driving the SV1000 Series runs at 1/3 of the RPM found in other hydraulic pumps. Field-proven gears run cooler and last longer to provide years of trouble free service

---

Precise PSI/Bar Gauge

Removable, easy-to-read 4" PSI/Bar gauge for ease of tool torque adjustment and monitoring.

---

Rugged Remote

Each pump includes the 15' low-voltage ergonomic remote operation pendant. The durable design is suited for the harshest environments.

---

Built-In Protective Shroud and Roll Cage

The motor and electronics are enclosed in a safety shroud to protect the pump from the elements and other environmental contaminants. For added safety, the pump is also fitted with a sturdy roll cage for lifting and protection.

---

Industrial Reservoir

Powder coated aluminum reservoir is lightweight yet durable for operating in the harshest environments. The pump comes standard with a 1.5 gallon reservoir.

---

Easy View Sight Glass

Sight glass enables operator to monitor reservoir oil levels.

---

Pressure Adjustment Knob

The easily accessible knob allows the user to adjust the pressure output of the pump, increasing or decreasing torque when necessary.

---

Twinline High Pressure Hydraulic Hoses

Each pump comes standard with one set of 15' twinline hydraulic hoses. The hoses are 4:1 safety rated and made of durable steel mesh in a protective rubberized coating.

---

No Drip Quick Connect Couplers

These 3:1 rated safety couplers are designed for simple engagement. The coupler collar ensures safe operation. This model is configured for the quadra-torc option - running up to four tools simultaneously.

Accessories

Tool Selection Display

Industrial grade LED membrane switch enables quick selection of tool for auto cycle operation.

---

Powerful 1.5 HP Motor

The permanent magnet motor driving the SV1000 Series runs at 1/3 of the RPM found in other hydraulic pumps. Field-proven gears run cooler and last longer to provide years of trouble free service

---

Precise PSI/Bar Gauge

Removable, easy-to-read 4" PSI/Bar gauge for ease of tool torque adjustment and monitoring.

---

Rugged Remote

Each pump includes the 15' low-voltage ergonomic remote operation pendant. The durable design is suited for the harshest environments.

---

Built-In Protective Shroud and Roll Cage

The motor and electronics are enclosed in a safety shroud to protect the pump from the elements and other environmental contaminants. For added safety, the pump is also fitted with a sturdy roll cage for lifting and protection.

---

Industrial Reservoir

Powder coated aluminum reservoir is lightweight yet durable for operating in the harshest environments. The pump comes standard with a 1.5 gallon reservoir.

---

Easy View Sight Glass

Sight glass enables operator to monitor reservoir oil levels.

---

Pressure Adjustment Knob

The easily accessible knob allows the user to adjust the pressure output of the pump, increasing or decreasing torque when necessary.

---

Twinline High Pressure Hydraulic Hoses

Each pump comes standard with one set of 15' twinline hydraulic hoses. The hoses are 4:1 safety rated and made of durable steel mesh in a protective rubberized coating.

---

No Drip Quick Connect Couplers

These 3:1 rated safety couplers are designed for simple engagement. The coupler collar ensures safe operation. This model is configured for the quadra-torc option - running up to four tools simultaneously.

Documents / Downloads