VT Series Battery-Powered Torque Wrench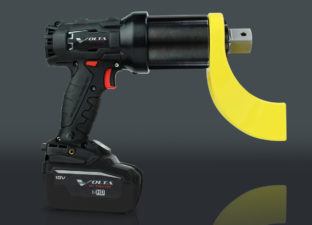 The Freedom and Flexibility of Cordless Operation Combined with Industrial Torque Power
With the introduction of the VT Series, your ability to torque industrial fasteners has now become as simple as a quick charge away. The VOLTA has been engineered to master any application effortlessly. Fully charged in under 60 minutes, the VOLTA's lithium battery provides enough power to take on hundreds of fastenings with no hoses or cords to limit your reach. Within the VOLTA is a digital motor vectoring system that provides accurate and repeatable torque throughout each model's full range capabilities. The VOLTA exemplifies the durability, reliability and safety that has embodied every industrial wrench crafted by TorcUP since the company's founding in 1996.
Cutting-Edge Internal Brushless Technology
Made In USA
Four Models From 120 Ft/Lbs to 3,000 Ft/Lbs - 175 Nm. to 4045 Nm.
Lithium Ion 6.2 Ah Rechargeable Battery
Every Unit Calibrated In ISO17025 Laboratory
Genuine TorcUP Design
The Volta's precision-engineered brushless motor delivers efficiency, longer run-time and extended durability, while its configurable torque range capabilities ensure ease of use and repeatability. The tool's internal brushless technology also allows the wrench to run cooler, providing bolting application safety and versatility in harsh environments. Additional features include digital display, torque memory settings, automatic reaction arm release and ft/lb to Nm conversion. Contact us for a Free Demo today!
Specifications

Model Number
VOLTA-500
VOLTA-1000
VOLTA-2000
VOLTA-3000
Square Drive
3/4"
1"
1"
1"
Min Torque (ft/lbs)
120
250
500
750
Max Torque (ft/lbs)
500
1000
2000
3000
Min Torque (nm)
175
350
700
1025
Max Torque (nm)
655
1355
2700
4045
Weight w/o Arm & Battery
8.3lbs/3.8kg
11.5lbs/5.2kg
13.1lbs/5.9kg
19.6lbs/8.9kg
Weight w/ Arm & Battery
10.4lbs/4.7kg
14.5lbs/6.6kg
15.9lbs/7.2kg
22.5lbs/10.2kg
RPM @ min torque
12
2
1
0.5
RPM @ max torque
20
8
5
2
Requirements
Charger Requirements: 110 - 120 V (50-60 Hz)
and 230 - 240 V (50-60 Hz)

Dimensions

| Model Number | VOLTA-500 | VOLTA-1000 | VOLTA-2000 | VOLTA-3000 |
| --- | --- | --- | --- | --- |
| Height | 10.40" / 264.2mm | 10.40" / 264.2mm | 10.40" / 264.2mm | 10.40" / 264.2mm |
| Square Drive | 0.75"/ 19.05mm | 1" / 25.4mm | 1" / 25.4mm | 1" / 25.4mm |
| Length | 8.86" / 225.0mm | 10.97" / 278.6mm | 11.45" / 290.8mm | 13.94" / 354.1mm |
| Diameter | 2.56" / 65.0mm | 2.85" / 72.4mm | 3.09" / 78.5mm | 3.75" / 95.3mm |

Features

Alloy Steel Square Drive

The hardened alloy steel square drive is designed for durability and direct socket engagement.

Ergonomic Slip-Resistant Pistol Grip

The pistol grip of the VT Series is engineered to allow for firm and comfortable positioning. The glass-filled nylon handle has a sturdy, slip-resistant overmold.

High-Efficiency Brushless Motor

The high-efficiency brushless motor provides longer run-time and lower operational temperatures.

Cast Reaction Arm

The sturdy "non-welded" construction provides a safe and strong reaction point.

Internal Gear Drive

The VT Series has a patented planetary gear design that provides consistent torque with no impacting.

Soft-Start Trigger

The soft-start trigger provides added safety to the operator, and the ergonomic selector allows forward and reverse operation without grip repositioning.

18V 6.2 Ah LiHD Battery

The VT Series has an 18V 6.2 Ah LiHD rechargeable battery that provides extended run-time and the freedom of cordless operation.

Accessories

6.2 Ah Rechargeable Battery

The Volta's 18V 6.2 Ah LiHD Battery provides cordless freedom and extended run-time.

Lithium Ion Volta Battery Charger

The Volta's premium, air-cooled lightning fast charger will have you ready to torque in under 60 minutes.

Long Extended Reaction Arm

This arm provides a longer reach, working with deepwell sockets.

Sliding Straght Arm

This arm is designed for socket to socket reaction. The drive/cup design protects the adjacent nut from direct reaction and is adjustable from 4" to 12".

Straight Reaction Arm

This arm is designed to accommodate a reaction point at a 90 degree angle from the drive.

Weld Blank

This reaction arm is made of raw steel and allows the customer to fabricate their own custom arm. The weld blank is splined to fit the VT Series and includes heat treating specifications.

Nose Extension

The extensions fasten directly to the nose of the tool, allowing for reach into hard to access applications. This works with the standard reaction arm.

Socket to Socket Reaction Arm

Allows the operator to react against the adjacent nut using a cup to protect it. It allows to adjust the socket to socket between 4" and 6" away from the square drive of the tool.

Documents / Downloads