Shaft alignment tool TKSA 11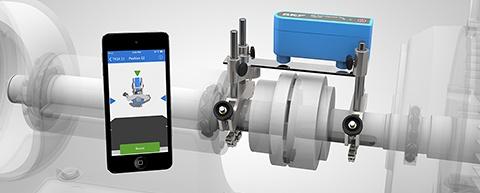 New technology makes shaft alignment easier and more affordable.
The SKF TKSA 11 is an innovative shaft alignment tool that uses smartphones and tablets and intuitively guides the user through the shaft alignment process.
With a focus on the core alignment tasks, the TKSA 11 is designed to be a very easy-to-use instrument is especially suitable for alignment learners and compact applications.
The SKF TKSA 11 is the first instrument on the market that uses inductive proximity sensors, enabling accurate and reliable shaft alignment to be affordable for every budget.
Features and Benefits

Live view of the instrument and motor position makes the measurement and horizontal alignment intuitive and easy
The TKSA 11 app offers a fully functional demonstration mode allowing the complete alignment process to be experienced without the need to purchase the TKSA 11
The TKSA 11 is designed to give a fast return on its investment and is also affordable for almost every budget
Mobile devices allow high resolution graphics, intuitive usage, automatic software updates and display unit choice
By using inductive proximity sensors, the measurement is no longer affected by bright sunlight, the influence of backlash is reduced and the instrument becomes more robust. All enabling the TKSA 11 to deliver accurate and reliable shaft alignments
Automatic alignment reports give a complete overview of the alignment process and results. Reports can easily be shared via email or cloud services

Shaft alignment is recommended for almost every industry, as it enables machine uptime to be significantly improved and maintenance costs to be reduced.

The TKSA 11 focuses on industries where these shaft alignment benefits have not yet been realised and helps customers profit from correctly aligned shafts.

The TKSA 11 App is available for free in the Apple App Store and the Google Play Store. Just search for "SKF TKSA 11" or follow the QR code and try the alignment process with the fully functional demonstration mode.

The SKF Shaft Alignment Tool TKSA 11 is supplied in an SKF carrying case.(fig. 1)

Technical Data

Sensors and communication

29 mm (1.1 in.) CCD with line laser; electronic inclinometer ±0,5°; Bluetooth 4.0 LE or USB cables (included)

System Measuring distance

0,07 to 4 m (0.23 to 13.1 ft.)

Measuring errors / displayed resolution

<0,5% ±5 µm / 10 um (0.4 mils)

Display type

5.6" colour resistive touchscreen LCD

Software update

via USB stick

Shaft diameters

20 to 150 mm (0.8 to 5.9 in.) diameter Up to 300 mm (11.8 in.) with optional extension chains

Max. recommended coupling height

195 mm (7.7 in.) with included extension rods

Mounting system

2 × V-brackets; 2 × chains 400 mm (15.8 in.); 2 × threaded rods 150 mm (5.9 in.) per V-bracket; 4 × extension rods 90 mm (3.5 in.)

Alignment measurement

3 position measurement 9–12–3 3 position automatic measurement 9–12–3 3 position free measurement (with min. 90° rotation)

Alignment correction

Live values for vertical and horizontal machine position correction; Laser soft foot tool

Alignment report

Automatic pdf report exportable via USB stick

Display unit battery

up to 8 hours continuous use at 100% backlight (5 000 mAh rechargeable LiPo battery)

Measuring unit battery

up to 12 hours continuous use (2 000 mAh rechargeable LiPo battery)

Carrying case dimensions

530 × 110 × 360 mm (20.9 × 4.3 × 14.2 in.)

Total weight (incl. case)

4,75 kg (10.5 lb)

Operating temperature

0 to 45 °C (32 to 113 °F)

IP rating

IP54

Calibration certificate

Supplied with 2 years validity

Documents / Downloads

Video