SR SERIES Electric Wrench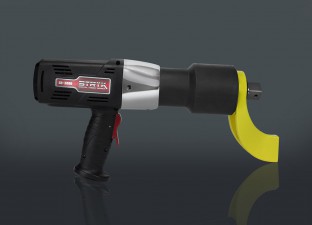 Advanced Electronic Control Combined With Industrial Reliability
SR SERIES Electric Wrench
The most precise way to control and track torque
Total electronic control of torque and angle fastening
Touch sense operation and document filing
Durable industrial materials and construction
Advanced Electronic Control Combined With Industrial Reliability
The SR Series is more than an electric powered wrench, it is an electronic torque controlled documentation system.
The TorcUP STRYK provides the most advanced tightening strategies for critical applications that require documented tight tolerance accuracy.
PROVIDES THE MOST ADVANCED TIGHTENING STRATEGIES
Made In USA
Five Models From 100 Ft/Lbs to 6,000 Ft/Lbs - 136 Nm. to 8135 Nm.
Touchscreen Graphical Display / 640 x 480 Pixels
Memory Total 512KB / USB Port (Data & Updates)
Input Voltage 100-240VAC – 50/60 H
Through the use of integrated encoders both torque and torque plus angle control are available at the touch of the screen. Angle control is available in both tighten and loosen directions for a total solution to your engineered specifications. Utilizing the same gear train design as our legendary RP Series, the STRYK outperforms all other methods in long term reliability as well as mechanical repeatability. Simply put, THIS IS THE MOST DURABLE ELECTRONIC TORQUE WRENCH SERIES EVER PRODUCED!
Specifications

| Model Number | SR-500 | SR-1000 | SR-2000 | SR-3000 | SR-6000 |
| --- | --- | --- | --- | --- | --- |
| Square Drive | 3/4" | 1" | 1" | 1" | 1 1/2" |
| Min Torque (ft/lbs) | 100 | 200 | 400 | 600 | 1200 |
| Max Torque (ft/lbs) | 500 | 1000 | 2000 | 3000 | 6000 |
| Min Torque (nm) | 136 | 271 | 542 | 813 | 1627 |
| Max Torque (nm) | 678 | 1356 | 2712 | 4067 | 8135 |
| Output Accuracy at set torque | +/- 3% | +/- 3% | +/- 3% | +/- 3% | +/- 3% |
| Repeatability | 100% | 100% | 100% | 100% | 100% |
| Duty Cycle | 100% | 100% | 100% | 100% | 100% |
| Tool Weight w/o reaction arm | 10.9lbs / 4.9kg | 14lbs / 6.4kg | 15.6lbs / 7.1kg | 22.3lbs / 10.1kg | 38.3lbs / 17.4kg |
| Standard Reaction Arm | 2.05lbs / 0.93kg | 2.85lbs / 1.29kg | 2.85lbs / 1.29kg | 2.85lbs / 1.29kg | 7.85lbs / 3.56kg |
| RPM @ min torque | 2.6 | 2 | 3 | 1.4 | 1.9 |
| RPM @ max torque | 25.8 | 10 | 6 | 2.8 | 1.9 |
| Control Box | 20lbs / 9.07kg | | | | |
| Power Cable | 1.65lbs / 1.65kg | | | | |
| Data Cable | 3.85lbs / 1.75kg | | | | |

Dimensions

| Model Number | SR-500 | SR-1000 | SR-2000 | SR-3000 | SR-6000 |
| --- | --- | --- | --- | --- | --- |
| Height | 9.29" / 236.0mm | 9.29" / 236.0mm | 9.29" / 236.0mm | 9.31" / 236.5mm | 9.94" / 252.5mm |
| Square Drive | 0.75" | 1" | 1" | 1" | 1.5" |
| Length | 11.45" / 290.8mm | 13.23" / 336.0mm | 13.94" / 354.1mm | 16.18" / 411.0mm | 16.88" / 428.8mm |
| Diameter | 2.56" / 65.0mm | 2.85" / 72.4mm | 3.09" / 78.5mm | 3.75" / 95.3mm | 5.00" / 127.0mm |

Features

USB Port

This allows for simple installation of software updates. It can also be used to extract data effortlessly to other devices.

Touch Screen Control

The SR Series Control Box comes with a 7.5" Display with 640 x 480 Pixels and 512KB memory. It includes multiple operation modes, data logging and field calibration. It displays in both metric and imperial units.

Single Cord Operation

The control box comes complete with a single cord connecting the tool to the box. This cord contains both power and data I/Os.

Sturdy Square Drive

The design of the square drive allows for direct socket engagement.

Electric Motor

The torque-sensing electric-servo motor is equipped with a with a precision angle encoder and operates at 115V or 230V.

Cast Reaction Arm

The sturdy "non-welded" construction provides a safe and strong reaction point.

Internal Gear Drive

The SR Series employs a patented planetary gear design which increases torque multiplication without added weight and bulk.

Ergonomic Handle Design

The handle grip of the SR Series was designed to allow for firm and comfortable positioning. It is finished with a durable impact-resistant nylon.

Dual Operation Trigger

The trigger allows for forward and reverse operation without grip repositioning.

Accessories

Long Reaction Arm

This arm provides a longer reach, working with deepwell sockets.

Sliding Reaction Arm

This arm is designed for socket to socket reaction. The drive/cup design protects the adjacent nut from direct reaction and is adjustable from 4" to 12".

Straight Reaction Arm

This arm is designed to accommodate a reaction point at a 90 degree angle from the drive.

Weld Blank

This reaction arm is made of raw steel and allows the customer to fabricate their own custom arm. The weld blank is splined to fit the SR Series and includes heat treating specifications.

Nose Extension

The extensions fasten directly to the nose of the tool, allowing for reach into hard to access applications. This works with the standard reaction arm.

Tool Positioning Handle

This ergonomic handle is durable and allows for left or right hand operation, as well as vertical and horizontal positioning. It can be factory or field installed and works on all SR models.

Documents / Downloads